A 'Sky(I)CU' for the world travel champions
In 2011, among Germany's 82 million people 69.5 million holiday trips were made, each lasting at least five days; 47.8 million (68.8%) of these were abroad.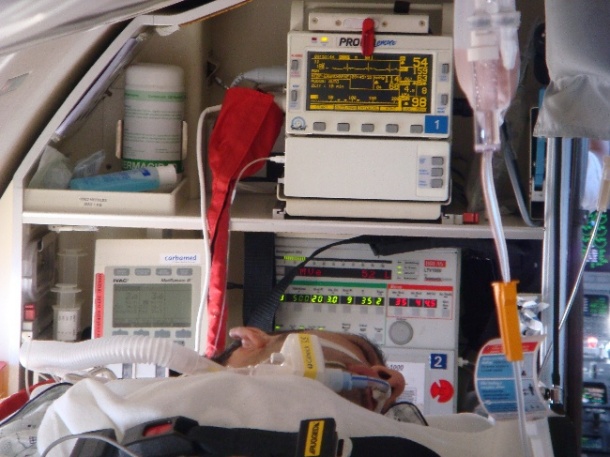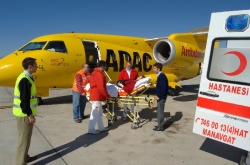 Inevitably this has an impact on the healthcare system: An increasing number of travellers need to be repatriated via air ambulance. The plane is no longer just a fast means of transport, but a flying intensive care unit.The German Automobile Association (ADAC) alone looked after around 51,000 sick or injured travellers. For more than 14,300 of them the "best time of the year" ended with repatriation and hospitalisation back home. 4,500 of them were returned by air, with 1,700 transported via special air ambulance.
There were 620 flights from Spain, particularly from the coasts, the Balearic Islands and the Canary Islands. 580 flights also transported the wounded from Turkey, 400 from Italy, 300 from Greece and 270 from France The main reasons for these plane repatriations were, in 70% of cases, cardiovascular disease, strokes and cerebral haemorrhages. 15% were due to accidents, particularly road and sporting incidents. The fleet of ADAC air ambulances consists of two jets of the type DO 328, a Beechcraft turboprop and a Learjet 60. The largest plane, the DO 328, can transport up to 11 patients simultaneously.
The German Red Cross air rescue service also repatriates severely insured and sick patients, chartering planes on a case-by-case basis from the two airports in Cologne-Bonn and Munich. The Swiss Air Rescue REGA, with its three Challenger CL-604 (Bombardier) air ambulance jets, is active in and from Germany – particularly in special cases where patients need ventilation and extracorporeal circulation is required.
Mechanical ventilation under aircraft cabin pressure
A nine-year-old boy with a history of cardiac arrest of unclear origin, and therefore often needing resuscitation, developed an acute respiratory infection resulting in cardiac insufficiency, which was initially treated with an extracorporeal membrane oxygenation device (ECMO) as bridging therapy until a ventricular-assist device is implanted at the German Heart Centre Berlin.
Thus, in October 2011, the boy was flown from Düsseldorf to Berlin. At the takeover, the REGA team was confronted with the boy's open chest connected to the ECMO. However, ventilation on a conventional ICU ventilator had been demanding. The patient was disconnected and reconnected to the inbuilt transport ventilator HAMILTON-T1 (Hamilton Medical, Bonaduz, Switzerland). The patient's height was entered as a basic setting and the mode Adaptive Support Ventilation (ASV) selected.
ASV relies on closed-loop regulation of settings in response to changes in respiratory mechanics and spontaneous breathing. Once a target minute volume is entered by the clinician using a percent Minute Volume setting, ASV automatically determines a target tidal volume (VT) and respiratory rate combination based on the minimum work of breathing principle. Within a minute, the patient was showing normal ventilation parameters for the circumstances. During the entire flight, this respirator especially developed for air transport adapted perfectly to the various changes in environmental and patient conditions and maintained a stable respiratory performance. Throughout the transfer, with on-going ECMO treatment the REGA team could care for the patient without the need to constantly check and adjust ventilator settings. Upon arrival Berlin, the patient was disconnected from the HAMILTON-T1 and reconnected to a conventional ICU ventilator. Mechanical ventilation under decreased ambient pressure is a challenge. Dependent on the speed of the pressure drop, the volumes which patients can be given with a ventilator increase by up to 30%.
The patient could therefore be forced into respiratory alkalosis. This is why the ventilation volume should be reduced according to the flight altitude. Modern transport ventilators, such as the HAMILTON-T1 by Hamilton Medical or the Oxylog 3000 plus by Dräger, automatically adapt to the respective cabin pressure. Thus for the mechanically ventilated patient who would previously have needed to be flown with a cabin pressure corresponding to 0m above sea level, the situation has changed: flight is fine at normal altitudes – significantly reducing transport time.
Generally covered by DIN 13234, the plane's intensive care equipment is also governed by European Aeromedical Institute (EURAMI) equipment guidelines. Along with a complete monitoring system (e.g. noninvasive and invasive blood pressure, central venous pressure, pulse oximetry, capnometry, 12-channel ECG, etc.) it also includes an intensive care ventilator, 8 syringe pumps, mobile blood gas analysis machine, bronchoscopic intubation equipment with suction channel option and a complete mobile ICU.