3-D endoscopy for image guided surgery
Segmental liver resections and ablative therapies require accurate and precise tumour localization. Because the peritoneal cavity is subject to deformations caused by respiration and topological changes in the surgical site during an intervention, the transfer of MRT and CT tumour data into an intra-operative setting remains a technical challenge.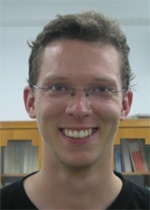 At the Pattern Recognition Laboratory in Friedrich-Alexander University Erlangen-Nuremberg, researcher Jochen Penne (Dipl. Med.-Inf.) is focusing on the acquisition of 3-D surface scans of the surgical site even during minimally invasive interventions.
To acquire 3-D surface scans he uses a novel scanning device: With a Time-of-Flight (ToF) based 10 mm laparoscope he acquires 3072 3-D surface points at 20 frames per second with an average precision of 0.89 mm. The spatial resolution used is comparable if not superior to alternative techniques, such as laser range scanners, although the researcher is using only off-the-shelf technology components.
His endoscope system consists of two laparoscopes, one equipped with a colour sensor and the other with a ToF sensor to acquire the 3-D surface scans and grey value images. With effective illumination of the site, with an optical reference signal in-depth information is gained via a pixel-wise phase-delay measurement between emitted and received reference signals.
The researcher's experiments have shown that overlaying the ToF image and colour image produces precise 3-D images suitable for image guided surgery.
Jochen Penne expects this new technology will be available within 12 months.