1st in UK - the 1.2 Tesla open vertical high-field MRI system
During the opening of the fully renovated InHealth MRI Centre at Mayday Hospital in Croydon, UK, three renowned Harlequin rugby players demonstrated just how 'open' the newly installed Oasis 1.2 Tesla highfield open MRI system is. Rugby players are notably large. This Hitachi system can accommodate patients who cannot fit into a conventional closed bore type of magnet.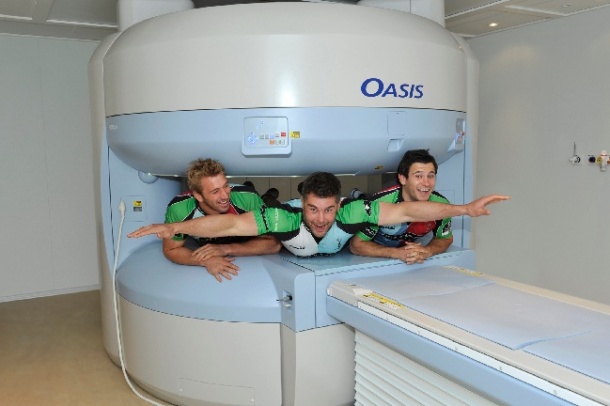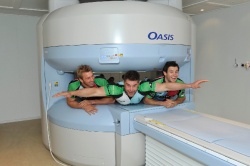 'The bariatric issue is a burgeoning problem in Europe demanding a radical rethink in MRI design whilst maintaining
the necessary image quality', Hitachi points out. 'The Oasis provides the widest patient table, largest flex body coil and specific bariatric scanning protocols within an open MR environment meeting the bariatric imaging challenge and reducing rejection rate.' The design also helps anxious or nervous patients, and those suffering claustrophobia, because sedation is not always needed.
'The 270° angle of vision allows the patient an unobstructed view during the scan for a far more comfortable experience whilst simultaneously giving the clinician a clear view of the examination in progress,' Hitachi adds. Referrals to the centre for patients from London and the South-East who suffer claustrophobia have risen significantly since the arrival of Oasis this April.