Sponsored • Spectrophotometry
1 measurement, 1000 different results
Of course every lab needs a spectrophotometer to measure its DNA, RNA or protein concentrations. In most cases, this is a small and easy-to-use instrument.
In most cases, this is a small and easy-to-use instrument. Normally you pipette approximately 1 µl of your liquid onto a pedestal, close the lid to cover your drop of liquid and, after pressing the measuring button, you will know the concentration of your sample.
Since the procedure is so simple and fast, most people do not take the time to measure their samples more than once. The consequence of this single measurement is the loss of the moment when the spectrophotometer would need a calibration. This is because at some point, you may realise that you do not get the same concentrations after repeated measurements – even worse, you can get 1000 different results!
If this is happening, you urgently need a calibration of your spectrophotometer, because you are measuring inaccurately and may even be obtaining wrong concentrations!
Unnoticed displacements lead to inaccurate measurement results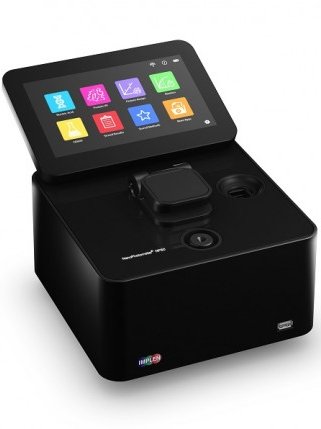 Actually every spectrophotometer should be serviced once a year to ensure reliable results. The reason why you need to ensure the quality of your measurements without merely relying on the instrument itself is the method behind the machine. Most spectrophotometers will expand the drop by stretching the liquid into a column. The pedestal then automatically chooses the optimal position to measure the sample. Therefore most instruments will use a stepper motor to move between pathlengths. The big problem with this technique is the drift in the pathlength over time. The danger with this technique is that you might not even notice the shift if you are not regularly verifying measurements – such as always measuring the same sample with a certain concentration!
In summary, we have to pay attention to our measurements and keep track of the regular recalibration of spectrophotometers. Unfortunately the control measurements combined with the recalibration of the instruments will cost time and money – and to avoid this, we offer the NanoPhotometer NP80 which has no need for recalibration.
The machine guarantees accurate and reliable measurements for the entire lifetime of the instrument!
The patented unique True Path Technology provides precise results without any need for recalibration!
Accurate and precise measurements without recalibration
The reason is the different method which is used in the instrument.
Instead of using a motor stepper, Implen invented a magnetic system with two fixed anchor points. The big disadvantage of the mechanical stress on the pathlength is eliminated by using the magnetic system. Accurate and precise measurements are achieved for a lifetime!
With the NanoPhotometer NP80 you will have only 1 result after 1000 measurements!
Request this and much more products for your laboratory at www.axonlab.com
More on the subject:
More on companies: