Ziehm Imaging brings range of C-arms to expanding US market
The rapid growth of less-invasive interventional radiology procedures is fueling growth for the German company dedicated to mobile C-arms.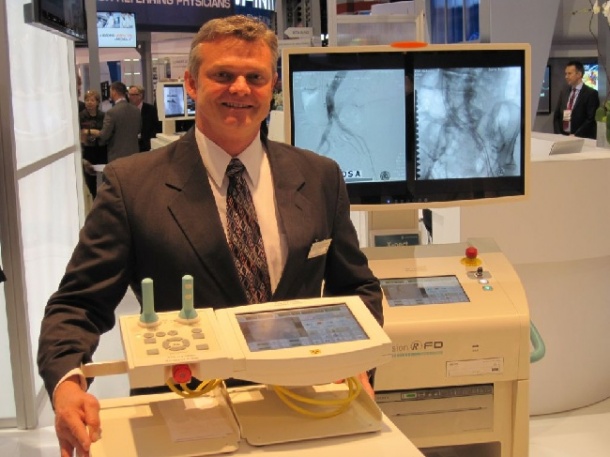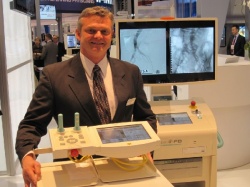 More and more cardiologists, vascular surgeons and interventional radiologists are moving from complex hospital centers in North America to set up their own streamlined centers dedicated to percutaneous procedures.
These less-invasive surgeries require a hybrid operating room (OR) that is at once a cath lab for catheter-based interventions, yet one which also can quickly convert to a traditional operating theater when complications require conventional open surgery.
This challenge presents an opportunity for Ziehm Imaging whose sales growth is following the trend for more cost-effective outpatient care thanks to a dedicated focus on C-arm systems, according to Gregory Jett, Global Product Manager for Vascular Imaging at the company.
"Surgeons can build a fixed OR for hybrid procedures, which takes six months of planning and a year of construction, or they can order a system from Ziehm and have it all working at once," he said, adding the cost is one-fifth of a fixed hybrid OR.
A C-arm becomes the eyes of the surgeon during catheter-based interventions, arching over the operating table with an x-ray tube at the top of the curve and a detector at the other end.
At RSNA 2012, Ziehm Imaging presented a range of C-arm configurations from a low-cost system for focused applications to a highly flexible, highly capable operating theater.
At center stage was the new Vision RFD Hybrid Edition presented as a fully realized operating suite with third-party monitors and a floating OR table from the Swedish manufacturer Stille.
A mobile system that can deliver a viewing capability previously only available with larger stationary imaging systems, the Vision RFD Hybrid Edition features a 30 cm by 30 cm flat-panel detector that delivers a field of view and a higher resolution than other C-arms. Its unique liquid cooling system is specially designed for extended use in operating theaters for demanding interventions.
Ziehm also presented a work-in-progress with the Vision RFD Motorized C-arm that can be controlled by the surgeon from the touchscreen mounted on the system, or by an assistant at the monitor stand, or from a special control console that can be installed anywhere in the OR.
Giving the surgeon control from the C-arm is a signature feature shared on all systems, including the workhorse of the family, the Ziehm Solo with its conventional image intensifier detector.
Since its introduction in 2010, the Solo has been installed in more than 1,000 operating suites.

More on the subject:
More on companies: