Xarelto gains EU approval
The European Commission has granted marketing approval to the Bayer Group for Xarelto (rivaroxaban), an anticoagulant taken as one tablet, once-daily, to prevent venous thrombo-embolic events (VTE) in adults undergoing elective (planned) hip or knee replacement surgery.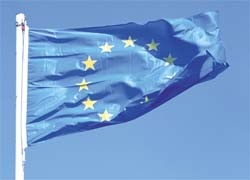 'As Xarelto has the potential to become a blockbuster, its launch is an important milestone for Bayer,' said Werner Wenning, CEO of Bayer AG.
The EU marketing approval followed a review of data from the extensive RECORD clinical programme that included three Phase III trials of Xarelto among around 10,000 patients undergoing elective hip or knee replacement surgery (RECORD1, 2 and 3 trials). Bayer reports that results from these three studies demonstrated the superior efficacy of Xarelto, both in head-to-head comparisons with enoxaparin (RECORD1 and 3) as well as when comparing extended-duration (5 weeks) Xarelto with short-duration (2 weeks) enoxaparin (RECORD2). 'In all three trials, Xarelto and enoxaparin had comparable safety profiles including low rates of major bleeding.'
Dr Bengt Eriksson, orthopaedic surgeon at the Sahlgrenska University Hospital/Östra, Gothenburg, Sweden, and a leading investigator in the Xarelto clinical development programme said: 'The development of Xarelto, an effective oral, once-daily anticoagulant, which does not need routine coagulation monitoring, is a huge step forward in blood clot prevention.'
Worldwide, almost 50,000 patients are expected to be enrolled into an extensive Xarelto development programme. The clinical trial programme will evaluate the product in the prevention and treatment of a broad range of acute and chronic blood-clotting disorders including VTE treatment, stroke prevention in patients with atrial fibrillation, VTE prevention in hospitalised, medically ill patients, and secondary prevention of acute coronary syndrome.
More on the subject:
More on companies: