Women, doctors and heart disease
Gender differences need recognition and medical research.
'Positive action is needed to more and more raise awareness of gender differences and cardiac disease - even among cardiologists.'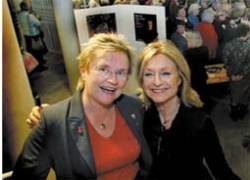 Whilst there will be no special focus on women and heart disease during the 2006 World Congress of Cardiology, held in Barcelona, at the 2005 event, held in Stockholm, this important, largely non-investigated area of cardiological understanding fell under the full spotlight for the first time.
Awareness is increasing that there are gender differences in terms of disease and treatment received. Indeed, this was very much underlined by an article published in the Journal of the American Medical Association (JAMA), in which 4,500 patients diagnosed with heart failure participated. The study results showed that the risk of dying of heart failure had decreased significantly between 1979–2000. However, it revealed that the opposite was the case for older females.

As a specific example, although in the last decade heart attack survival has improved greatly due to thrombolytics, such as TPA and streptokinase, a USA study, involving 1,078 people screened for TPA eligibility, showed that 39% of the women were too old, 59% had non-diagnostic electrocardiograms and 30% went to hospitals too late. Overall, only 16% of the screened women were eligible for TPA, compared with 25% of men. Of those eligible women, 55% received TPA, compared with 78% of the men.

For many experts, it is still shocking – and regrettable – that poor recognition of gender differences have for so long resulted in different treatment of patients presenting themselves in doctors surgeries, hospital accident and emergency departments or even when women become actual hospital patients – different approaches are still made, and could prove life threatening.
'Positive action is needed to more and more raise awareness of gender differences and cardiac disease – even among cardiologists,' said Eva-Elisabeth Swahn MD PhD, President of the Swedish Society of Cardiology, during a discussion on this subject with European Hospital's Editor Brenda Marsh.

One problem the professor pointed to simply arises from the poor communication skills of doctors attending patients, as well as those of male and female patients, who tend to describe symptoms in very different ways. A doctor might then incorrectly interpret what a patient says, affecting his/her diagnosis. 'Male patients are more straightforward with their answers. They say I have a pain. Whereas a woman patient would answer more vaguely, I have a feeling...' the professor explained. Feelings and pain can be interpreted as poles apart: the one is tangible, the other perhaps as an experience of the mind. Asked whether doctors might even interpret female 'palpitations', for example, as an 'hysterical' reaction, perhaps to stress, Professor Swahn pointed out that the woman patient, even with typical cardiac symptoms, would be more likely to be diagnosed as suffering 'anxiety'. In which case she would be prescribed tranquillisers. 'It is the duty of doctors to be able to differentiate between the way men and women describe their symptoms,' she pointed out, suggesting: 'Doctors should learn to ask indirect questions, so that yes or no answers can be given. It would help towards a better diagnosis.'

Prof. Swahn's interest in this field began in the 1980s, when writing her theses. At that time she realised that most trials mainly involved males, rather than females. She heard reasons such as 'women's ECGs are different', or they had 'a different physiological way of reacting from men'. From the realisation that there was very little research on any gender differences, and believing there was 'much to be done', her involvement grew. Carrying out research has not been easy. The professor had to work alone, with virtually no funding. However, today, perhaps because gender differences are at least acknowledged, if not understood, the professor has two fellows to undertake her research agenda. Nonetheless, obtaining funding for this particular field of work is still a difficult task, she added.

The professor mentioned one Swedish development that has helped raise awareness – the 1.6 Million Club, an organisation founded by Alexandra Charles, a celebrity well-known in Sweden because she had opened, then run, the country's first nightclub in the 60s and 70s.

In the late '90s, Alexandra Charles was shocked to learn that males and females received different medical treatment, that most medical understanding came from research generally carried out on males – often young and fit ones – and that this resulted in diseases and doses of medication based on the male body, not that of the female. 'We want a society, where gender equality in medical education and research is the most important issue,' she decided. Taking action, she founded her second, very different club in 1998, basing the name on the number of women over 45-years-old in her country. (Germany now has a similar organisation, but has more women in that age group: it is the 19.6 Million Club).

Today the 1.6 Million Club has around 20,000 members, and is seen, in political and medical circles, as a strong lobby for the improvement of conditions for women's health and status.
Fund raising and women's health education are numbered among its activities.
Apart from more research on women and the heart, and certainly more seminars on the subject, Professor Swahn said her hopes for the future include having '... an informed population – both doctors and people. Then they will question what doctors think. Even if typical symptoms are seen, cardiologists do not realise, because they are used to dealing with the male psyche. That has to change.'

Eva-Elisabeth Swahn MD PhD, Professor of Internal medicine and cardiology, and head of the Cardiology Department at the University Hospital, Heart Centre, Linköping, Sweden,
The professor studied medicine in Stockholm's world-renowned Karolinska Institute.
She has written around 60 scientific publications, which have been published in well known international scientific journals (for example, including 'The care of patients with cardiovascular diseases from a gender perspective' published in The European Heart Journal [1998;19:1758-65]) and has authored book chapters focused on ischaemic heart disease.
Submitted peer-reviewed articles include: Female sex is an independent predictor of death and bleeding among fibrinolytic treated patients with AMI; results of the Global Utilisation of Streptokinase and Tissue plasminogen activator for Occluded coronary arteries - V trial. H Reynolds, M Farkouh, M Lincoff, A Hsu, E Swahn, Z Sadowski, J White, E Topol, J Hochman for the GUSTO V Investigators.
She is a recognised speaker at national and international cardiology congresses, and is a senior lecturer at post-graduate courses organised by the European Society of Cardiology (ESC).
Professor Swahn was also principal/assistant principal coordinator in the multi-centre studies RISC, TRIC, FRISC I&II and IRIS during the 80s-and 90s, which involved patients with unstable CAD. RISC and FRISC I&II, she points out, are landmark studies, internationally well known and often cited. The IRIS-study has specifically dealt with women's ischaemic heart disease from a diagnostic, pathogenetic and prognostic viewpoint.
She was national coordinator in a multi-centre, worldwide thrombolysis-study (GUSTO V), co-national coordinator in ASSENT 3 Plus, and principal investigator of the gender perspective in RIKS-HIA.
Significant also is her active part in starting the Linköping Female Medical Association, of which she was president for four years.
Professor Swahn has been President of the Swedish Society of Cardiology since 2004.