Water purifiers for renal care network
One of the largest renal programms startet at Leicester General Hospital, part of the University Hospitals of Leicester NHS Trust.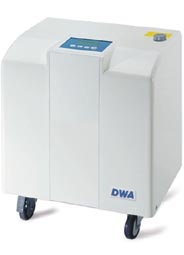 Patients have received dialysis there since 1974, and today the hospital has over 800 established renal failure patients – a number expected to grow by about 8% annually. Treatment options for patients include haemodialysis, home haemodialysis, continuous ambulatory peritoneal dialysis, automated peritoneal dialysis and renal transplantation.
It's one of the largest renal programmes in the UK, with satellite units in six other hospitals providing treatment for chronic renal problems as well as the provision of end-stage renal failure therapy. A Home Care Team also provides ongoing care to patients in the community who are on, or about to commence, dialysis treatment.

Recently, rather than installing a central water system, the hospital purchased 12 HemoRO Hot single station water purifiers, from ELGA Process Water, to supply its newest renal ward. 'We're building a new community-based satellite station, which will have a central renal water treatment system. It should be ready in two years,' explained Danny Withers, Renal Technician at Leicester General Hospital. 'In the meantime we have to cater for the growing number of patients here. We increased an existing eight-bed unit up to 12, but the central water system wasn't big enough so we decided, rather than spending a lot of money to increase the central system for a two year period, we would add four single station HemoRO Hot units. We've also provided a new temporary eight-bed unit and, for the same reason, have installed 8 HemoRO Hot units there.'

The HemoRO Hot is microprocessor-controlled with automatic hot water sanitisation and the ability to access operational information and sanitisation records via the clear display and RS232 interface, Elga reports. 'The high integrity hot water sanitisable reverse osmosis membrane provides a complete barrier to bacteria and endotoxins to ensure compliance with current renal water quality standards.

When the new satellite station opens, Danny Withers plans to use the HemoRO to start replacing the hospital's 20-year-old fleet of home dialysis water purifiers. 'The HemoRO Hot means I can get rid of sanitising chemicals in homecare applications,' he explained, 'and that will provide a higher level of safety for patients and nursing staff as well as being more eco-friendly.'

* ELGA Process Water is part of Veolia Water Solutions & Technologies (VWS), a subsidiary of Veolia Water.