Technology
Virtual assistance during procedures
The adage 'practice makes perfect' is applicable to every profession – but even more so for pilots and surgeons. Flight simulation technology has been used for decades to hone aviators' skills, and this technology is now being used by neurosurgeons to plan as well as practise surgical procedures and for real-time virtual assistance in operating theatre.

Report: Cynthia E Keen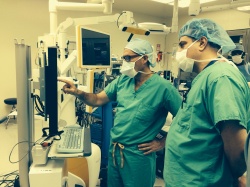 Interestingly, products from Surgical Theater of Cleveland, Ohio, are the brainchild of a career Israeli Air Force flight simulation designer, Moty Avisar.
Working with Dr Warren Selman, neurosurgeon-in-chief at the UH Case Medical Centre in Cleveland, Surgical Theater first developed a Surgical Rehearsal Platform (SRP) that received the USA's Food and Drug Administration 510(k) clearance in 2013.
The SRP uses CR or MRI images to create 3-D models. The model enables surgeons to plan and practise a surgery, such as clipping an aneurysm. It enables users to make recommendations on what size, shape, and placement of a clip would be best for a given patient, thus eliminating wastage of expensive clips that may be tried and rejected during surgery because they do not provide the best fit. Alternatively, a surgeon could virtually position a patient and plan the point of entry that provides the best access to the surgical target.
The Surgical Navigation Advanced Platform (SNAP) is an extension of SRP. It connects to a navigation system (such as the Brainlab Curve or the Medtronic Stealth), which allows a surgeon to view a 3-D representation of the patient's cranial anatomy in the operating theatre and navigate off it. SNAP provides the ability to rotate an image or make it semi-transparent to see behind arteries and other critical structures, something not previously possible to do. Dr Selman, who is also chief medical officer of Surgical Theater, has used SNAP's automated reality and simulation capabilities to pause the navigation scene during surgeries to rotate a 3-D image to verify that he had completely removed a tumour.
The neurosurgery department of Mount Sinai Hospital in New York City started using SNAP in July 2014, immediately following FDA clearance on 30 June 2014. Department chair Dr Joshua B Bederson advised European Hospital that he has been using SNAP in the operating room for a rapidly growing number of surgeries. He compared the technology with that of watching football on television, where multiple cameras positioned in a stadium can show different angles of an image, or freeze it, zoom in, and enable the viewer to think about other 'what if' scenarios.
'I currently use the SNAP to pause navigation during surgery, allowing me to rotate, expand, or cut away parts of the image. This allows me to confirm that vital structures are safely protected, that I removed a specific portion of the tumour, and that I am not threatening critical brain arteries,' explained Dr Bederson. 'I've also found that connecting Snap to an intraoperative navigation platform enhances coordination among team members.'
Steven Philemond, a clinical research coordinator in the hospital's neurosurgery department, said that Mount Sinai has not compiled any quantifiable data to determine whether SNAP use has minimised the length of a surgical procedure. 'However,' he said, 'it does reinforce a neurosurgeon's confidence in the approaches to cases. Failing to pick the proper trajectory may also add on time to the case. The 3-D rendering that the SNAP provides allows both neurosurgeons and residents to have the ability to re-orient themselves during the case.'
Other valued uses: Mt. Sinai uses the SNAP as a rehearsal and training platform for neurosurgeons and residents. Philemond said that residents use the system to review cases where surgery has already taken place, plan their approach and rehearse the procedure. They then view the intraoperative video to see how the actual procedure compares to the approach they outlined. The SNAP system also can interface with videoconferencing and video streaming systems, offering residents and neurosurgeons throughout the world the chance to view the surgical procedures in which it is used.
Dr Bederson presented the technology in a scientific session at the annual meeting of the European Association of Neurosurgical Societies this October in Prague. Surgical Theater also will be an exhibitor at EANS 2014.
The company anticipates receiving a CE Mark approval for both SRP and SNAP within six months.