Updating of Healthcare Infrastructure a High Priority for Russia
Cynthia E. Keen
For the past eight years, Russia has been implementing a nationwide infrastructure update of its healthcare facilities. In addition to building new specialized medical centers and equipping them with state-of-technology medical equipment, it is implementing a new model for healthcare payment and scrambling to train all levels of healthcare professionals.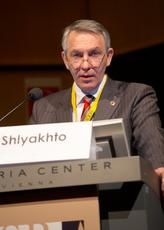 Professor Eugene Vladimirovich Shlyakhto, M.D. head of the department of internal medicine, Director of Cardiovascular Institute Pavlov Medical State University in St. Petersburg and Director of Almazov Federal Heart, Blood and Endocrinology Centre, described the achievements and the challenges of this intensive process to attendees at the Hospital Management Symposium held at ECR 2008 on Saturday.
Reimbursement issues, medical staff training, and lack of senior managers experienced in contemporary hospital administration techniques are some of the challenges that medical providers in Russia face. The most significant problem is providing hospital administration training rapidly enough to equip the managers who will operate the new healthcare facilities with the sophisticated skills they need.
Prior to 1990, the government paid 100% of all medical expenses to hospitals, clinics, and physicians. In the early 1990's, mandatory medical insurance was implemented, which supplemented the government support. Private payment was also permitted, as were the established of private physician practices.
Since 2000, the federal government has invested significantly in new hospitals and centres of excellence. In 2007, 3 of 14 planned new federal medical centers were opened. Located in Astrakhan, Penza and Tcheboksary, the centres utilize the most advanced diagnostic imaging modalities and medical equipment.
What these changes have created is a need for highly trained medical administrators. Dr. Shlyakhato said that post-graduate healthcare administration programs have and continue to be implemented, but that there are not enough qualified managers to meet the new healthcare facility demands. Financial managers are also needed to handle the now complex financial reimbursement model incorporating federal, state and municipal budgets, statuatory medical insurance and patients' direct payments.
Achievements include a 10% decrease in mortality. A 15% decrease in infant mortality combined with a 15% increase in the national birthrate will stem the trend of a population decline. A national movement encouraging self-health through good health awareness and practice is also underway. Russians are being made aware that while the government budget for healthcare has doubled between 2005 and 2007, and will continue to increase, the primary responsibility for maintaining good health is theirs.