Unique rooms at Münster Training Hospital
At first glance everything looks real, from the equipment and fittings to gleaming white bed sheets and the pallor of the patient. But something is incongruous: a large mirror opposite the bed is reminiscent of a police interview room. It is the sole suggestion that this hospital room may be unusual. It is. Behind the mirrored glass, medical students indiand a tutor are observing a 'doctor' who is intent on finding out more about his patient's drinking habits.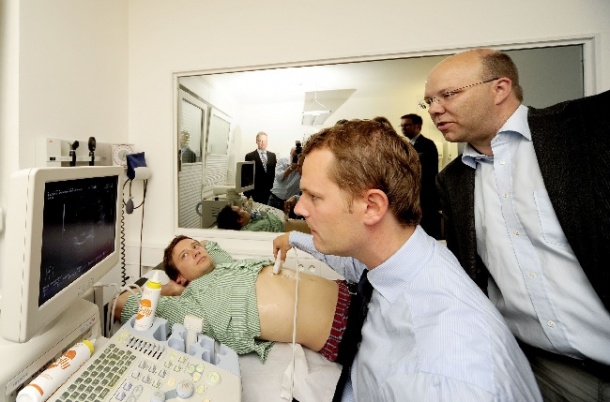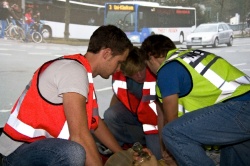 The risk of offending the patient emotionally is significant. Avoiding this, creating an atmosphere of trust and making a precise diagnosis is the objective of today's class at the Münster Training Hospital, a unique institution for medical training and qualification within the Medical Faculty of the Wilhelms University in Münster, Germany.
What is happening is more than a simulation. Thanks to support partconsulting ly received from private industry, it
has been possible to create a complete, true-to-detail hospital wing with four rooms and two intensive
care wards.
The patients are trained actors, each with about six illnesses in their 'repertoire'. Apart from specific symptoms, such as cirrhosis of the liver, the 'patients' also present themselves as individual characters, so that not only medical knowledge but also empathy, tact and intuition are called for from the attending doctor. 'The novelty of this training hospital, which opened at the end of 2007, was to create for medical students a protected learning environment that is as close to reality as possible,' explained Dr Thomas Bauer, spokesperson for the Dean's Office. 'It's concept that far exceeds conventional skills and is still unique in Europe. Doctor/patient communication is very important here, which is why a qualified psychologist is part of the permanent team at the Training
Hospital. Around 60 actors are working with us, aged between 12 and 70 years, so we can represent a broad range of patient types and indications -- from a child presenting with a headache to an older patient with dementia.'
Individual sequences of daily professional medical life are presented, as well as a frame of reference for hospital life with considerable care and attention to detail. Technology is also important Along with communication and medical skills, trainee doctors at Münster are learning to handle the most up-to-date technology; not for them a range of discarded units from the hospital; new, state-of-theart technology has been supplied
by manufacturers. 'Without this support the true-to-life fitting of everything -- from floor coverings to iron work to respirators and intercoms -- would only have been possible with limitations,' Thomas Bauer said. 'The companies also benefit from this use -- where else would it be possible to check and test products so intensively as to
their suitability for practical use?' That view is shared by Jürgen Hahn, Chief Marketing Officer of Hitachi Medical Systems in Europe, a firm that has supplied the hospital with four ultrasound scanners, one of which is situated in a simulated out-patient consulting room.
'Our products are used by around 750 students per term and so are automaticall tested as to their good and easy handling,' he pointed out. 'In this way we receive direct feedback, from 'unbiased' users. In addition, the training hospital offers us the unique opportunity to present our equipment in real surroundingsand under authentic conditions without paralysing the operation of the hospital – it's a type of showroom. However, at the forefront remains the really fantastic idea behind this project, which we want to support through our involvement.'
Ultrasound diagnostics plays an important part in Munster: Wilhelms University is the first medical faculty in Germany to have made this topic obligatory for the degree course, which is why the ultrasound scanners are heavily used in the training hospital. Along with hospital scenarios simulated there, emergencies can also be simulated on site with the help of special technology developed by the Fraunhofer Institute. 'Our simulation laboratory is a type of 3-D cinema. It can recreate the atmosphere of road traffic, and therefore make students feel as if they are in fact attending an external emergency,' said Thomas Bauer. 'It obviously makes a big difference whether one is to check a patient's heart rate in a quiet hospital or at a loud and hectic accident site with
sirens, spectators and passing traffic in the background.'
The 'false reality' is not complete by far. The Training Hospital was conceived as a 'permanent building site', he pointed out. It will remain as a location for the implementation, testing and establishment of new concepts and ideas.