Transcending tradition
Top technology and design coalesce in the ultimate operating theatre.
The theatre is spectacular. Its immaculate cornflower blue glass walls surround space age technology — the EndoALPHA system. Even that name suggests something that surpasses what existed before; it's `the be all and end all´.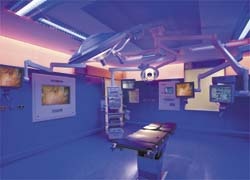 Mounted like futuristic works of art, HDTV monitors display digitised X-ray images of endoscopy procedures transmitted by the surgeon from cameras that explore the body's depths. The clarity achieved is significant. 'The use of high-resolution HDTV camera systems together with NBI (Narrow Band Imaging) allows even the smallest of changes in the stomach or breast to be detected when performing tumour operations,' explained Thomas E Langwieler MD, head of surgery at the Ev. Amalie Sieveking-Krankenhaus.
The beneficial effect of the surroundings is palpable. Patients enter the theatre visibly more relaxed, he said: 'Patient comfort definitely increased, and the positive impact on the subjective feeling of well-being among the surgeons and theatre staff. There's a positive impact on workflow.' Maximum freedom of movement is achieved due to the lack of cabling lying around, as well as the easy, quick movement of devices, as needed.
'At the moment the theatre is mainly used for laparoscopic interventions; obviously we could also use it for conventional surgery,' Dr Langwieler continued. 'Through the outstanding functionality we have achieved shorter preparation times and can start operations quicker. The touch screen allows us to adjust all the required settings on-site, starting with the correct lighting and ranging to the adjustment of the operating table, so we don't need an assistant to do these jobs for us. The same applies when we wait for instantaneous sections and inform the pathologist. Using the video systems we can confer with one another and make real-time decisions. It also applies to imaging: we can upload images directly into the PACS, losing no time during surgery. Our hospital departments have always worked very closely together. With this technology it's no longer a problem for another surgeon to join an operation with little time and effort.
The new theatre systems also aid training and research. 'We are a teaching hospital for minimally invasive surgery (MIS), which means guests are always observing our surgical procedures. Eight to ten times a year we carry out MIS training courses. Through the video technology we can send images directly to monitors in the conference and training rooms and a "bistro" that is separated from the theatre by frosted glass. At the touch of a button, our guests can follow operations live, with all the images in HDTV quality on a separate TFT screen. They can also talk to the operating surgeon via a microphone. They also see instruments and camera systems in use, so directly experience what they have learned in practice. Everyone has a good view and can observe an operation in the best possible way.
'This is very attractive for training medical students, nurses and other operating theatre staff. They don't have to spend the entire time in the theatre; they can take a break, sit down, and have coffee. However, the glass is not always see-through – if necessary it can be iced up, completely shielding the operation from view, so that, during difficult phases, the surgeon can work in peace without guests having to leave the operating theatre. Trainees can also rotate this way — some in the theatre, then swapping with a group in the bistro.'
The system also can be set up to provide live links to other hospitals, practices or to national and international congresses. As Heinz Jacqui, Managing Director of Olympus Winter & Ibe GmbH pointed out that video and audio links to other departments in the hospital can be created in the future 'for example to the gastroenterology and radiology departments'.
Dr Langwieler added: 'Our aim is to further enhance the competencies and quality of our work. This not only means the treatment of patients across borders, or the close co-operation with Ronald Marvik at Trondheim (Norway) and Antonio Lacy in Barcelona; it also means finding new ways forward in research and development. Real innovations come from smaller hospitals. We are much more versatile than larger hospitals – when it comes to co-operation with Olympus in the development of a new instrument, or in modifications for a surgical procedure, we can test this method in a relatively short space of time.'
Thomas Lütke-Kappenberg, head of systems integration at Olympus Germany, agreed: 'It's what makes smaller hospitals interesting for the industry – including Olympus. They are better placed to come up with new ideas more quickly and to put them into practice. Interestingly, we then get ideas such as the use of podcasts and videos in medicine. We are not at all ruling out this very interesting technology; we intend to discuss with Apple how we can use it in medicine.'
The podcasts of operations would not only be used for training purposes, but also to record certain aspects of a procedure as information for patients, Dr Langwieler pointed out.
'All of this should then also be available for downloading from the Sieveking Hospital website or from the Olympus website,' Thomas Lütke-Kappenberg continued. 'It will be the next step in our co-operation. After that, we will try to develop similar concepts to those put into practice in surgery for the gastroenterology department, which is currently being completely redeveloped at the Amalie Sieveking Hospital. Dr. Langwieler and Prof. Koop (Gastroenterology) are the points of contact for the development of this new concept for gastroenterology. The future in this area of integration is not only in the theatre but also in gastroenterology and the networking of both technologies.'
'Despite being a small hospital, with this project we are continuing our strategy of becoming a technological leader', said Ralf Pinnau, Managing Director of the Ev. Amalie Sieveking-Krankenhaus. 'Following the successful implementation of cardiac infarction care with one of North Germany's most modern catheter laboratories, with Olympus we are now committed to further developing a centre for MIS and MIS gynaecology. Without a doubt, the hospital has become one of the most interesting places to work in the field of minimally invasive surgery which, in the long term, makes us even more attractive to potential employees and consultants.'
Funding, planning, construction and realisation
'The idea for the reconstruction was conceived at a congress,' Dr Langwieler explained. 'For reference, we chose the operating theatre in Barcelona. We flew to Barcelona in 2006 to get a better picture and we realised that our operating theatre should be designed differently. Some design ideas developed during the planning phase, but we needed funding for their implementation, which we requested from the city council for the entire operating theatre refurbishment. Within the Albertinen Group, we also had funds of ?2.7 million. As soon as the finance was in place there was a lively exchange between everyone involved in the project, including the architects, because not every idea could actually be implemented as planned. The blue walls, for example, were only developed during refurbishment.'
The project, which involved relocating a central sterilisation unit, new construction, and the refurbishment of four existing operating theatres, took 16 months to accomplish from planning to the official opening. During the five critical months there were times when the operating theatre could not actually be used, Dr Langwieler pointed out. 'The modifications did have an impact, but it was not as extensive as we had assumed. We also did a good job in terms of logistics. We extended our working hours during the week, then didn't operate some weekends. A further limitation of our work was that we had to relocate the recovery room and changing rooms to the third floor. We operated on the second floor, which meant that we could only reach the operating theatre via sealed off stairways. Hygienists took daily swabs to ensure that we adhered to the hygiene guidelines. Transportation across two floors, along with those daily checks, were quite complex, but at least we did not have a total outage.'
Thomas Lütke-Kappenberg believes past experience helped during the Hamburg project. 'We could fall back on experiences gathered in Barcelona over three years ago. However, other aspects, developments and new functionalities were added in Hamburg, such as digital video screens, the architecture of the operating theatre, ergonomics and the extension of functionalities by a few PACS systems. Luckily, we didn't have to develop a new IT infrastructure: the existing network was completely sufficient, but we did need to programme the interfaces, which is not always easy. However, the Albertinen Group's IT department was most co-operative.'
And so to the future…
Since the successful hand-over of the first integrated Olympus operating room in the Hospital Clinic Barcelona in 2004, the company has completed over 70 reference projects in Europe, and reports that the number will increase at an even greater pace in future.
Today, the European Olympus Medical Organisation employs about 2,000 members of staff, who work on the development and sales of endoscopic systems in over 30 national companies.
'For Olympus this highly modern operating theatre (in Hamburg) serves as a global reference centre for customers from all over the world, and the opening of a new global Olympus Training Centre with an operating theatre showroom in Jenfeld will complement this overall concept,' Thomas Lütke-Kappenberg explained. 'The training centre offers an exclusive training programme and through the link with the reference centre online training can be carried out at any time. The geographical proximity of the hospital to Olympus also promotes this form of co-operation. Moreover, the rebuilding of the operating theatre was certified by the Technical Inspection Authority for the first time, i.e. we are the first organisation which supplies and fits operating theatres certified by the Technical Inspection Authority.
For such advanced operating theatre, Olympus works closely with Europe's leading surgeons and endoscopists and, according to Frank Drewalowski, General Manager of Olympus Medical Systems, Europa, the company is investing in specialist teams of project engineers and
service experts right across Europe – all who are, he said, 'committed to turning all the visions of operating room users into reality'.
More on the subject:
More on companies: