Neurology
Tips to eliminate barriers
Manuela Messmer-Wullen awoke in her hotel room one morning, during a business trip, and realised she was hemiplegic. There were also cognitive impairments and she could not articulate. Diagnosis: Stroke. 'In the very first period after the stroke, contact with radiologists was very strange and mysterious for me.'

Report: Michael Krassnitzer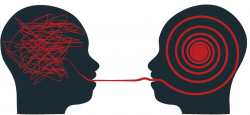 Messmer-Wullen became a board member of the European Federation of Neurological Associations (EFNA), which campaigns on behalf of people with neurological diseases. In March, at the European Congress of Radiology (ECR 2015), she spoke during a session of the ESR Patient Advisory Group, which focused on particular communication problems between radiologists and patients with neurological diseases.
'Communication between the radiologist and patient can be quite challenging – and is even more complicated if the patient has a brain disorder,' explained Donna Walsh, Executive Director of the EFNA. Neurology patients can suffer language disorders (aphasia), motor speech disorders (dysarthria) and difficulties with coordination (dyspraxia). Communication with the patient is made even more difficult when they have problems with their short-term memory or personality disorders, such as aggressiveness or paranoia.
A survey amongst patients with multiple sclerosis and their neurologists has shown that both groups are surprisingly pleased with their communication. More than eight in ten patients who saw a neurologist in the past year said they felt comfortable talking about their MS with their neurologists, characterising their relationship as honest, open, comprehensive and helpful. Nearly all neurologists (96%) felt that they had an open dialogue with their patients, and 90 percent indicated that they have a good understanding of all aspects of a patient's disease. When asked if his or her neurologist is accessible and spends enough time with them, close to three-quarters of surveyed patients responded positively.
However, the survey also uncovered some less positive facts: 47% of doctors stated that they did not have enough time for communication with their patients. Interestingly, though, only 21% of patients shared this view. Doctors were also more cautious when it came to the subject of communication barriers: 15% felt there were no barriers with patients at all, whilst the figure rose to 37% among patients. 'But that means 60% feel barriers exist,' Walsh emphasises.
'How do I know if my patient is satisfied with communication?' she asks, quickly following with her answer: 'Ask!' She also offers three more tips for communication between doctors and neurological patients:
Give the patient at least 30 seconds to speak uninterrupted and during that time minimise note taking and maintain eye contact.
Touch the patient; touch makes them feel that the conversation is about something real.
Involve family members – but don't ignore the patient. The patient is the person you are treating and should not be dismissed or ignored.
Often this is not easy. 'The radiologist is usually considered to be a poor communicator,' admits Dr Lorenzo E Derchi, Head of Emergency Radiology at San Martino University Hospital in Genoa (Italy). 'It's possible that some medical students choose radiology because they're afraid of close contact with patients.' Derchi believes there should be more emphasis on communication in medical training.