Article • Mobile AED
The world's smallest defibrillator
The Fred easyport, the only pocket defibrillator in the world, which Schiller brought onto the market three years ago, was a huge success so far. From next year on, the device will also supply a manual shock option.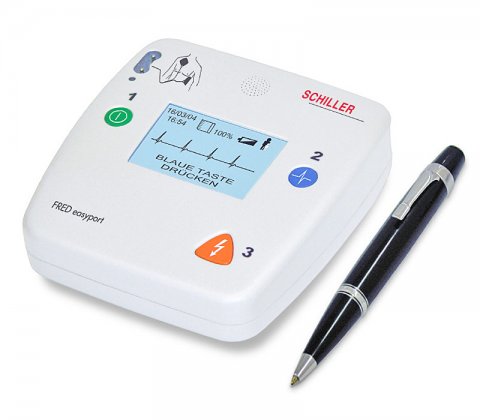 It is so small (133 x 126 x 50mm) and light (490 g including the battery) that for many doctors it is already standard equipment in their emergency bag. The fact that this 'life saver' is always available gives doctors peace of mind in every difficult situation.
Many paramedics and rescue technicians are also equipped with the Fred easyport because it can be easily carried, clipped to a belt. For example during the World Cup 2006, paramedics on duty at the football stadiums carried out their duties with Fred easyport at their waists. In Switzerland an entire Police corps has been equipped with this "weapon" against sudden cardiac death. From next year the device will also be supplied with the manual shock option i.e. the doctor can switch off the AED mode and decide whether he wants to defibrillate or not.
More on the subject:
More on companies: