Resuscitation
EASY PULSE® – latest generation of automatic CPR devices
The EASY PULSE® is an unbelievably small and light mechanical chest compression device. Performing manual chest compressions well for an extended period of time is almost impossible. Not only is it physically demanding, but other actions, such as vital signs monitoring, are also required simultaneously. SCHILLER's EASY PULSE® is the solution for more efficient resuscitation: this portable, stand-alone device automatically delivers chest compressions at a consistent rate and depth.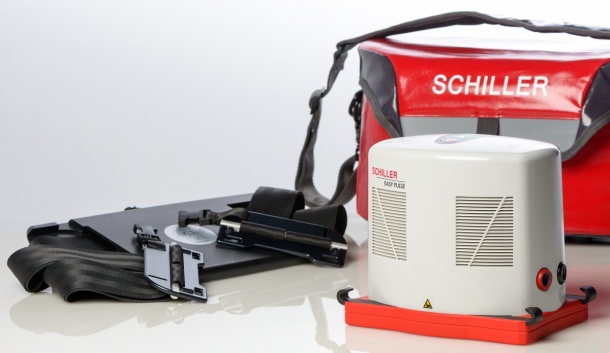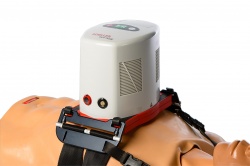 Additionally, the EASY PULSE® has a unique combination of stamp and band allowing 3D compression and therefore maximum efficiency. The device weight is evenly spread over the baseplate and is not concentrated on a single spot. For this reason, the device weight does not influence the chest compressions nor the recoil.
Perfect in any situation
Its size and weight are unparalleled: the EASY PULSE® weighs 3.5 kg, opening up entirely new possibilities for all medical fields. The EASY PULSE® is such a simple device that a single person can operate it. It is directly attached to the patient's upper body and can thus be used in any situation, regardless of ambient conditions. Thanks to the slider, patient preparation for mechanical chest compressions is extremely easy. Device hook-up is also very fast thanks to the practical buckle system. The EASY PULSE® can be used during transport even in a vertical patient position, where space is limited or when there is no hard surface available, as in bed, in the car, etc.
Technological Innovation
Lightweight
Unbelievably small and light electrically-driven CPR device, weighing 3.5 kg
Ideal for limited spaces
Comprehensive
Multidirectional chest compressions (3D)
High-quality chest compressions of consistent rate and depth, which is impossible to achieve with manual compressions
Possibility of 30:2 compression-ventilation cycle
Simple
Thanks to slider and buckle system, it can be easily attached to the upper body
Easy to position – easy to operate
Additional features
Replaceable battery with charge level indicator
Autonomous operation for 45 minutes (with one battery)
Connections: external DC input, USB
For more information, come and join us at the ESC in Barcelona (Booth No. G600)
Source: SCHILLER AG
More on the subject:
More on companies: