The tabletop film processor
Ecomax - a brand new plug and play system for analogue X-ray film processing - is being launched at the RSNA by Protec Medizintechnik GmbH & Co. KG.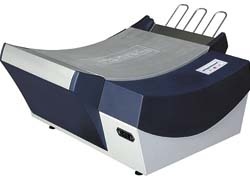 The firm reports that this concept of mounting all components that substantially influence image quality (e.g. pumps, heaters, guide bars, rollers etc.) has resulted in:
• optimised image quality due to a brand new tank design
• reduction of wasted chemicals due to oxidation, because of smaller tank sizes (environment-friendly and money-saving for consumables)
• less required space, due to the more compact overall processor design
• easier access to components that require regular maintenance saves time and reduces maintenance costs
• preset, optimal parameters ensure consistent good results.
To be marketed early next year, Protec adds: 'Ecomax convinces with its simplicity, its design and the image quality it produces.'
Protec entered the X-ray film processing market in 1984, then, in 2001, in order to play a major role in digital growth, the firm set up Protec medical information systems. Today the company has a worldwide dealer network of dealers that sell its products in almost 100 countries, accounting for an export share of over 90%.
More on the subject:
More on companies: