Sponsored • 12-lead resting ECG
The new CardioPart 12 WLAN – ECG innovation made in Germany
A convincing workflow – wireless, robust, ultramobile and hygienic
In daily routine, ECG machines need to be wheeled around hospitals to collect ECG at the bedside. This can often be difficult and time consuming requiring the use of elevators.
The AMEDTEC solution is a 12-lead resting ECG which fits into your pocket. Its compact design is equipped with a brilliant display and available on a 24/7 basis. Chargeable using the associated docking station.
The benefits at a glance:
compact and easy to disinfect, which guarantees mobility and hygiene in daily routine use
modern, precise measuring technology using Wi-Fi data transfer
incorporating integrated bar code scanner to read patient information
complete integration of patient data and examination request from AMEDTEC ECGpro® data management system and thus to HIS/PACS or practice software
particularly suitable for paperless workflow including mobile order lists
Precise data acquisition, intuitive operation and fast flow of information. Well thought out and application oriented. AMEDTEC has designed a device that meets the requirements of modern day-today work in hospitals.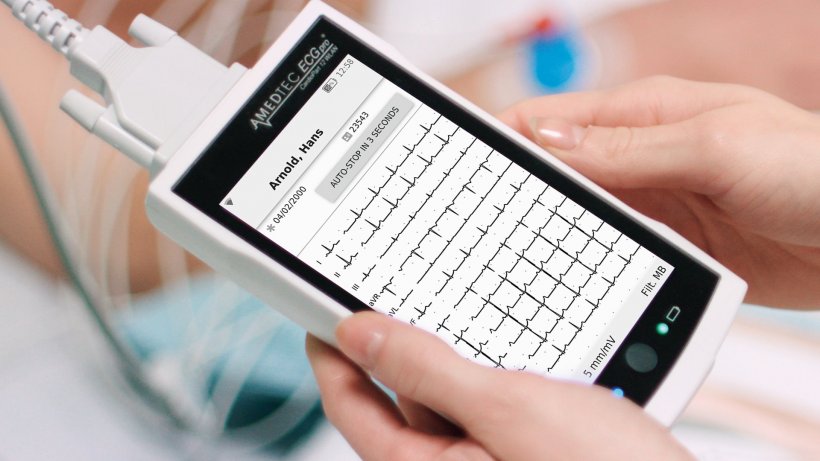 Mobile ECG
The CardioPart 12 WLAN can be used at any location as a resting and rhythm ECG. The system automatically synchronizes all the collected data immediately with the central server via network. Every physician can access it immediately after the examination.
Simply intuitive
Need to retrieve or enter patient information? Regardless of where the ECG is recorded, data acquisition and transfer are carried out on a mobile basis. The integrated bar code scanner retrieves the patient information and assigns the examination results.
Data Management
AMEDTEC's approach is consistently user-friendly. You can integrate the CardioPart 12 WLAN into any hospital information system. Smooth operations with ECG order lists are guaranteed using DICOM and HL7. No expensive additional interfaces are required. AMEDTEC ECGpro® manages the synchronization of patient and examination data.
Automatic ECG interpretation
AMEDTEC ECGpro® uses the Hanover ECG System, HES®, for measurement and interpretation. The system has taken part in every CSE (Common Standard of Electrocardiography) test. It is valid as a standard for automatic measurement and interpretation of electrocardiograms on a worldwide basis. Validation was carried out by independent test centers. The Hanover ECG System, HES®, measures and interprets the ECG data in detail and generates a diagnostic recommendation.
Integrated LAN port
No Wi-Fi? The data will be synchronised via LAN connection to the hospital network. As soon as you put the CardioPart 12 WLAN into the docking station, the system syncs data automatically with the server.


Source: AMEDTEC