The new Alder Hey Children's Hospital
Rising from a stark old workhouse to a heavenly landscape of the future
Britain's many new hospitals are more than brave architectural statements – they consistently win awards, inspire others and, above all, improve life for all who use them. Now another stunning creation is about to rise. Despite beginning life as a workhouse for the poor, and having to grow in bleak, outdated buildings, in its near 100- year history Alder Hey Children's Hospital in Liverpool not only became one of Europe's busiest children's hospitals but also an esteemed Centre of Excellence.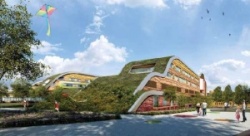 In 2016 the hospital will gain yet another international accolade – as one of the most splendid hospitals in the world. For it is then, in four years' time, that the Alder Hey Children's Health Park is expected to open its doors to a stream of young patients.
Three open 'fingers' will radiate out from the atrium concourse -- the distinctive entrance space that forms the hospital's public hub – all rising above a beautifully landscaped undulating park as if a natural continuation of the gently flowing landscape. Those fingers of clinical space, alternating with gardens, will also have walls vibrantly alive with plants. To achieve this exciting result, the Alder Hey Children's NHS Foundation Trust issued an interesting brief: 'Create a hospital that engenders well-being and raises patients' and visitors' spirits by adding to their quality of life; integrate the hospital and park for the therapeutic benefit of children, their families and staff flow.
The British architects BDP, who won the contract, did that and more. 'Central to our idea was ensuring that the majority of rooms (whether for children or staff) enjoy park views and that gardens and terraces are equally accessible to all.' Further, the Trust's brief emphasised coming up with 'a unique concept recasting Alder Hey as the Children's Health Park and creating 'a hospital without precedent', including the latest thinking on infection control, patient dignity and privacy, segregation of patient, clinical and facilities management flows and technological advances. Every year, despite its antiquated buildings, Alder Hey provides 275,000 episodes of care to youngsters suffering, for example, cancer, heart, spinal and brain diseases. One delightful aspect of the new architecture was to involve present and past child patients in the design.
Louise Shepherd, Alder Hey Chief Executive, explained that a drawing from one of those children inspired the new concept. 'We felt it was really important to design this hospital with the help of our children who have been involved throughout the development phase. They have helped our bidder to get the design right for children and young people.'
To be built in Springfield Park, next to the present hospital site, when the new Alder Hey is complete the old buildings will be demolished and that site will become a replacement park. Thus the new hospital will be right in the heart of the grounds, surrounded by green space. Costing £237 million for the construction and demolition, the new hospital will have 60,000m2 of floor space, 270 beds, including 48 critical care beds for ICU, HDU and burns patients. Sixteen operating theatres, four for day-case surgery and 12 in-patient theatres, are also planned.
Each of the six 32 beds standard wards will have two four-bed bays and 24 single rooms on each ward. Thus the majority of children will have their own rooms with en-suite facilities, improving patient and family privacy and dignity. The special design also ensures that the majority of bedrooms have park views and the children will have easy access to play areas on and outside their wards. A 150-seat restaurant will provide catering, and the 1,200 spaces multi-storey car park raises currently available spaced by 200).
The fusion of people and places
As a main board director and architect at BDP, Benedict Zucchi leads the firm's healthcare studio in London, where he designs hospital projects and is responsible for a 30-strong team of architects. He was project director for the award-winning Royal Alexandra Children's Hospital in Brighton, and leads the Alder Hey project. 'Our design concept,' he concludes, 'has not only captured the imagination of children, parents and staff but has also demonstrated itself as a flexible and effective approach.' Asked what his biggest personal influence might be, he said: 'Italy, and the atmosphere of its towns and landscape, where the humanmade and the natural fuse in the most wonderful and unexpected ways.'
Andrew Smith, head of healthcare at BDP, believes that 'trading places' with those who use hospitals, is critical when designing a hospital – i.e. thinking oneself into their shoes from the time they leave the bus or car and move into and around a hospital. If you take the fly-through BDP's designs for Alder Hey, you'll no doubt get the feeling:
http://www.youtube.com/watch?v=iyCOAhVQ7KI
Update: Brenda Marsh