The lightweight S8, with 15-inch monitor and much else, scoops F&S award
The S8, a high-end colour Doppler HCU (hand-carried ultrasound) recently received the 2009 Product Quality Leadership Award from the global consultancy Frost & Sullivan (F&S).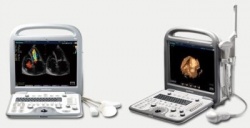 According to the Schenzhen-based manufacturer SonoScape, this is 'the first portable system that has a perfect combination of 4-D and echocardiography. Despite being a portable ultrasound system, S8's performance can be matched with that of a regular high-end, cart-based, echo ultrasound system. The S8 has proved itself a reliable ultrasound system with outstanding performance, especially in cardiology fields. Also, this flagship HCU demonstrates its superiority as it offers abundant features, such as adult TEE, paediatric TEE, high frequency phased array, 15 MHz linear transducer, up to 512 HD transducers with frequency range from 1.9 to 15MHz, and so on. The high configuration of S8 enables the system even to meet the strictest requirements of cardiologists,' SonoScape adds.
Integrated imaging technologies include micro-scan, multiple-beam processing, automatic flow volume analysis, and 4-D imaging technology.
F&S reports that the award reflects the outstanding achievements of S8 in the European ultrasound market. 'The company's priority is maintaining high levels of quality in its product lines,' explained Krishanu Bhattacharjee, senior analyst at Frost & Sullivan.

Details: www.sonoscape.com

SonoScape is at Medica
Hall 10. Stand B64.