The Children's Island
Management and therapy for continuous ventilation
By Heidi Heinhold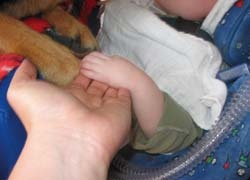 The Children's Island, an intensive care unit in the DRK children's hospital in Siegen, Germany (the first German and second European hospital to receive a European Foundation for Quality Management 'Recognised for Excellence' award) provides therapy and care for children and teenagers who need continuous mechanical ventilation, e.g. those with chronic respiratory insufficiency (CRI). 'Since these children require long-term intensive care, the hospital management decided to establish a dedicated ICU – the Children's Island – which is more like a home than a hospital ward,' explained paediatric nurse Birgit Krumm, who directs the unit.
The Children's Island aims to provide a protected sphere that supports psychological, physical and pedagogical stabilisation and allows patients and their families (also offered accommodation) to learn to deal with their disease.
The next aim is the transition of patients to home care. Some short-term patients stay in the unit for three to four weeks, merely for diagnoses. The entire team – physicians, paediatric nurses, teachers, speech therapists, ergotherapists – and last but not least the 'animal therapist', want to discover and promote the children's resources to enable them to lead an independent life as much as possible, for example to attend kindergarten or school.
In terms of discovering and promoting skills, animal-based therapy plays a crucial role by focusing on a child's mental and physical condition. Animals that live in similar social structures to humans, e.g. dogs, are particularly suitable for this role. Trained dogs can help build bridges between a severely ill child and its environment when social contacts and communication with humans is not possible due to the degree of illness. 'It's important to recognise that the dog is not a therapist, nor even a therapist's instrument. The dog is and will be an animal,' stressed Katja Müller, paediatric nurse and qualified provider of animal-based therapy. 'Both dog and human must receive professional training. The therapist is always responsible for the patient, so must be acutely aware of all the risks involved in using an animal during therapy, not only in terms of allergies and hygiene, but above all in the safe interaction between animal and patient. The therapist is also responsible for the animal: appropriate animal care, health and primary attachment matter.' Given these, an animal can work wonders in a healthcare setting.
Phrenic nerve stimulation
The Siegen children's hospital has utilised phrenic nerve stimulation (PNS) since 2007. 'A PNS can be implanted in patients with congenital or acquired respiratory insufficiency, spinal cord injuries of C0 to C3 caused by trauma, tumour, haemorrhage, infarct or infection,' explained Dr Rainer Blickheuser, paediatrician and medical director of Siegen's paediatric anaesthesia department. Due to these types of damage, the patient needs breathing support, usually life-long ventilation with a ventilator either taking over the entire breathing work or supporting a patient's residual breathing.'
The advantage of a PNS is improved physiological breathing, which means a significant reduction in long-term ventilation-associated damages and the rate of ventilation-associated pneumonia.
The device offers patient greater mobility and independence than a conventional home ventilator. For many patients the tracheotomy can be closed. Invisible equipment and clearly improved speech enable social re-integration for patients.