Article • TAITRA presentation
Taipei hits highs in Medica 2017
3-D visualisation, augmented reality, automated tumour classification – today, the Republic of China produces cutting-edge medical technology and it's a long time since 'Made in Taiwan' stood for inferior, copied products.
Report: Wolfgang Behrends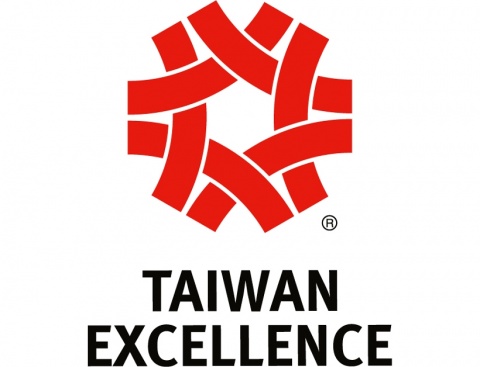 Over recent years, this island state has successfully morphed into a productive and, above all, innovative manufacturer of medical technology available on the world market.
Taiwan presented its most exciting products at this year's Medica trade fair in Germany – all bearing the prestigious national stamp 'Taiwan Excellence'. Organised by the semi-public Taiwan External Trade Development Council (TAITRA), Taiwan's presence at this prestigious show presented the cutting edge of Taiwan's medical technology.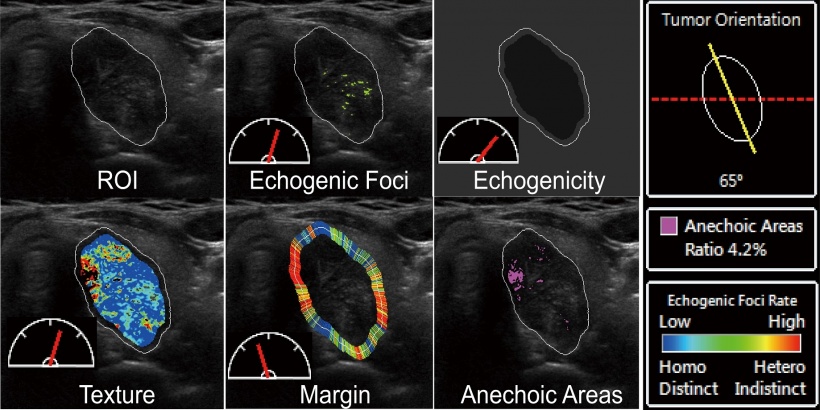 Source: AmCad BioMed
An algorithm to tell good from bad tumours
Using this method, we achieve an accuracy of 90 percent – on average, 15 to 25 percent higher than the capability of the best professionals

Peter Wu
Nowadays, artificial intelligence (AI) and deep learning are among the buzziest buzzwords in healthcare. Not surprisingly then that Taiwanese developers also explore the potential of these new technologies. For example, AmCad BioMed uses the power of algorithms to automatically classify thyroid tumours. 'Our software can analyse the characteristic features, such as microcalcification and echotexture, and calculate whether a tumour is benign or malignant', explains Peter Wu, President of AmCad. 'Using this method, we achieve an accuracy of 90 percent – on average, 15 to 25 percent higher than the capability of the best professionals.'
Machine learning enables software to improve its precision with each and every new case it analyses. 'Of course the doctor must make the final decisions', Wu emphasises, 'But, our software provides all the necessary information.' Increased precision is envisaged to reduce the number of unnecessary fine needle aspiration (FNA) biopsies by 50 percent and thyroidectomies by 30 percent.
The technology applied in another of the company's products works in a similar way: software automatically analyses airflow in the upper respiratory tract to determine the risk of Obstructive Sleep Apnoea (OSA) syndrome. 'This procedure normally takes several hours and requires the patient to stay in a sleep monitoring facility overnight,' Wu explains. 'Our system can do it in just 10 minutes, while the patient is awake.' Saving time and money by reducing length of hospital stay and the number of interventions is the professed aim of the product.
Mixed Reality brings an unobstructed view without X-ray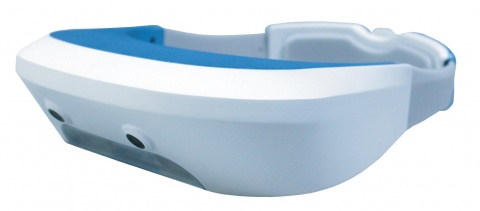 Bridging the divide between the digital and real world is the vision of Taiwan Main Orthopaedic Biotechnology's Smart Surgical Glasses. The product is designed to enable the surgeon to look into the patient during surgery via Mixed Reality: X-ray images or tissue images of the regions of interest can be viewed in real-time and in full HD resolution (1080p). 'The relative position of the projected image to the patient is determined via four infra-red sensors,' Communications Manager Dr Min-Liang Wang explains. This provides the high degree of precision required in, for example, dorsal spinal surgery.
The developers are convinced that 'Smart surgical glasses will become a key tool for significant advances in surgery.' The fact that the surgeon does not have to switch between patient and monitor is said to reduce the duration of the procedure by 30 percent – a fact that also means less radiation exposure for clinical staff and patient alike. At this point, there is only a prototype of the smart operating room (OR) glasses, but a market launch is planned for 2018 because the necessary clinical studies have progressed well.
Extra-dimension out of the box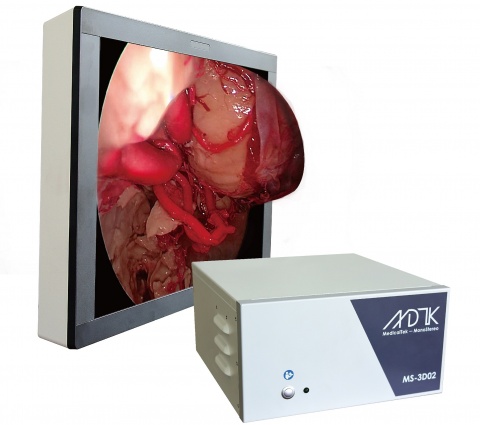 Technical innovations? Fair enough. However, they are of little value if hospitals do not have the necessary equipment to use them. This is where 'MonoStereo' by the 'Taiwan Excellence' winner MedicalTek comes in. This is a 3-D conversion box for endoscopes, as explained by Chairman Kai-Che (Jack) Liu. 'The software we developed converts the monoscopic images from any current 2-D system and processes them in real-time to stereoscopic 3-D images.'
A strong point in favour of the product is the high degree of compatibility. 'This is convenient for hospitals, because they already have all the necessary equipment,' he points out. 'Their endoscopy systems are simply connected to our conversion box. The depth is then perceived by the surgeon via polarised 3-D glasses.'
3-D endoscopic images not only improve visualisation of depth, they also flatten the learning curve. 'Surgeons need to convert the 2-D endoscopic images to 3-D movements in their mind. For some, this takes up to two years to get used to,' Liu explains. 'Our system takes this additional challenge away by adding depth to the images. This way, a surgeon only needs half an hour to get used to the endoscopic movement. Because it is a more natural way of perception, the added depth also results in more precision and therefore, better outcomes.' The conversion box does not impair the movement and zoom functionality of the endoscopes.
Coming soon to a hospital near you?
While some of the 'Taiwan Excellence' products are as yet only in the prototype phase, others are already used in hospitals throughout Asia. Innovations such as the algorithm for tumour classification and the 3-D Conversion Box for endoscopes recently obtained FDA and CE clearance and thus will soon be admitted for use in USA and European hospitals. Many Taiwanese companies are actively seeking sales partners – no doubt, after Medica, some contacts will be eager to knock on Taiwanese doors.
Contact:
AmCad BioMed (Automated thyroid tumour / OSA risk classification): webservice@amcad.com.tw
Taiwan Main Orthopaedic Biotechnology (Surgical Glasses): pmlwang@gmail.com
MedicalTek (MonoStereo): info@medicaltek.biz