Home Monitoring
Smaller and more effective insertable cardiac monitors
Greater sensitivity and versatility of devices, as well as more patient-friendly implantation options, were issues outlined at the CardioStim 2016 EHRA Europace world congress on cardiac electrophysiology, held in Nice, France.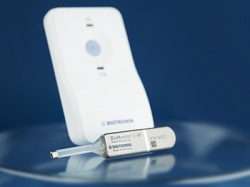 The 'Improving Patient Outcomes in Arrhythmia Management' scientific session focused on Biotronik Home Monitoring systems, during which experts from Australia, Switzerland and the USA discussed the latest research on how remote monitoring systems and insertable cardiac monitors (ICMs) can improve patient outcomes.
In highlighting the rising importance of using remote monitoring via ICMs to enable earlier diagnosis and prevention in patients who have arrhythmias (but are not yet indicated for a pacemaker or ICD), the senior cardiologists also outlined how home monitoring is reducing mortality, hospitalisation and healthcare costs.
During the congress, Berlin-based cardio and endovascular medical technology specialist Biotronik also unveiled findings of the first-in-human trials of its new BioMonitor 2 ICM device to delegates with experts. Covering 30 patients, this pilot study revealed high R-wave amplitudes and a 93.8 percent success rate for daily home monitoring transmissions from a device that can be inserted in as little as two minutes. 'For ICMs to have a significant impact on early arrhythmia diagnosis, reliable detection including sensing, data quality and transmission is critical,' lead investigator Dr Sze-Yuan Ooi, from Sydney, explained. 'This study shows promising results for BioMonitor 2 in all of these fields. The high transmission success rate is key because we need robust, high-integrity data for our patients to derive the maximum benefit.'
BioMonitor 2 has an extended sensing vector with the combination of the rigid (55mm long) and flexible (33mm) part allowing adjustment to the shape of the body. Sensitive to changes in heart rhythm with the automated detection of atrial fibrillation, bradycardia, sudden rate drop or high ventricular rate, this device can make up to six ECG transmissions a day.
Ooi described the BioMonitor 2 as a 'big step forward' in terms of technology, design and implantation technique, compared to the first generation Biotronik Biomonitor device. 'The pilot study showed that the R-wave amplitude is greater than the original Biomonitor device, the implantation process was easy, straightforward and quick and the other important finding out of all this was the transmission success rate of 93.8pc, which is really exceptional.
'Biotronik has invested heavily over the years in its Home Monitoring System and that is borne out in this trial. The most important aspect with the devices is the ability to make a diagnosis, that comes first and foremost, as well as the implantation procedure being not too invasive,' Ooi pointed out.
Biotronik Home Monitoring transmits patient heart data automatically on a daily basis, rapidly detecting deterioration in a patient's clinical status. Early detection of clinically relevant events, in particular paroxysmal and asymptomatic arrhythmias, such as atrial fibrillation, enables the physician to adapt patient therapy at a very early stage. 'Remote monitoring is an evolving field and is not just about having a device with remote monitoring capabilities,' said Ooi. 'Equally important are the device's ability to detect arrhythmia and differentiate true arrhythmia from noise or physiological irregularities in rhythm, such as sinus arrhythmia, sinus tachycardia and ectopic. 'It's also about how that message gets to the doctor and the systems in place in hospitals to pick up that alert and a protocol for that alert to be appropriately actioned. This involves personnel, infrastructure and policies.'
The initial study will be followed up further, to deliver more information about the diagnostic abilities of the device. The session also heard from Dr Jan Steffel, from the University Hospital Zurich, who discussed how earlier management of atrial and ventricular arrhythmias is enabled by detection with ICMs, and Dr Niraj Varma, from the Cleveland Clinic, who spoke about improving outcome of ICD and CRT-D patients by continuous remote monitoring.
'Efficient workflow and robust transmissions are critical to leveraging the benefits of remote monitoring,' Varma said. Biotronik Home Monitoring facilitates this with daily automatic transmissions that preserve the highest order of data integrity, and are yet easy to handle. 'This is a key reason why this system has been associated with improved clinical outcomes in several trials and why the current remote monitoring guidelines are based largely on Home Monitoring data,' Varma explained.'

PROFILE:
Sze-Yuan Ooi MD is a coronary interventionist and cardiac device implanter at the Eastern Heart Clinic and Prince of Wales Hospital in Sydney, Australia. His research interests include new coronary stents and implantable device technology, coronary inflammation, coronary physiology and pressure wire technology.