Sponsored • Monitor CL-S600
Six megapixels for diagnostic radiology
JVC launches CL-S600 color monitor with latest technology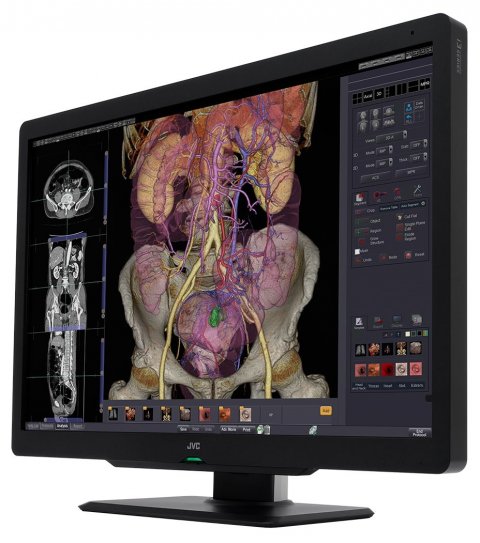 Everything but mammography, that's what JVCKenwood's new CL-S600 6-megapixel monitor can do. With its 30-inch display, it can show medical images of different modalities such as CT, CR/DR, MR, ultrasound and pathology side by side. The arrangement of the windows can be freely selected. The large screen without a center bar creates a comfortable environment for radiological diagnostics.
The monitor is equipped with the latest technology. The patented Dynamic Gamma function, for example, analyzes the entire screen content and selects the correct gamma curve for each individual pixel in real time. This applies to all images - whether ultrasound, endoscope, pathology or nuclear medicine - and always results in an optimum representation. "This works without problems even with moving images, although millions of operations per second are necessary here," explains Marcel Herrmann, Marketing Manager Medical Imaging at JVCKenwood.
The novel turbo luminance function can increase the brightness and contrast of the screen for a maximum of 30 seconds to magnify recognizable gray scales. This allows the radiologist to reliably assess even the finest calcifications. The effect is further enhanced by the Visual Point mode. This increases the contrast in certain areas controlled by the mouse pointer.
Luminance and color temperature are automatically adjusted in real time on the CL-S600. "The built-in color front sensor on the screen constantly measures the color temperature and adjusts changes over a long period of time," says Herrmann. This is easy on the eyes of the person making the findings - as is the built-in lighting on the back of the monitor and the indirect lighting of the keyboard and mouse.
More on the subject:
More on companies: