RUT -
a national quality register
for ulcer treatment
A system of national quality registers, established in recent decades in Sweden's health and medical services, now numbers 64 registers. Along with three competence centres, these cover, for example, diabetes mellitus (NRD), dementia (SeDEM), Swedish intensive care (SIR) and acute coronary care (RIKS-HIA), and the Register Ulcer Treatment (RUT), which was added at the dawn of 2007. The latter has proved a winning concept for patients and Sweden's healthcare sector, according to a report* by general practitioner (GP) Rut F Öien MD PhD, of the Blekinge Wound Healing Centre at Lyckeby Healthcare Centre in Lyckeby.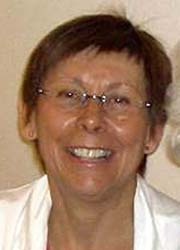 The registers and competence centres receive central funding from Salar, the Swedish Association of Local Authorities and Regions, Dr Öien explained. 'Salar publishes reports from the registers to enable the participant clinics to compare their outcome results with other clinics in Sweden for optimising medical care.' Developed in co-operation with EyeNet Sweden, one of the three competence centres, RUT is the first primary care register in Sweden initiated by a GP because, in this country, most leg ulcer patients are treated in primary or community care in this country.
Blekinge county has 150,000 inhabitants. Based on 20 years of research and experience, the GP-led Blekinge Wound Healing Centre opened 2003 to treat and follow up the majority of ulcer patients in the entire county. 10% of referrals are from physicians at the hospital.
The web-based quality register RUT was developed to meet the demands of modern ulcer care, explained Dr Öien. Introducing a structured team management of ulcer care with the emphasis on diagnosis and documentation and treatment was the key to success for an improved wound management programme. Over the last five years RUT has been adjusted and evaluated at Blekinge to determine the clinical parameters. 'A shift in paradigm has occurred, where 'ulcer care' with accurate diagnosis and effective treatment evolved to 'ulcer healing',' Dr Öien said. 'A national quality register has been found to be imperative in achieving better conditions for leg ulcer patients.'
The aim of the study was to present and implement RUT for hard-to-heal ulcers (not healed within six weeks, i.e. not following the normal healing course), and also to evaluate and present the results of structured documentation, treatment and follow up in clinical practice and visualise how the register could be used to identify risk factors for delayed healing.
Patients with hard-to-heal leg, foot and pressure ulcers are registered first on ulcer assessment, to guarantee the diagnosis, and again at follow up, i.e. at ulcer healing. Every patient with a non-healed ulcer remains on the register until healing is achieved. So, when followed up a patient can either have a healed ulcer, be deceased, have had an amputation and thus no longer an ulcer, moved to another geographical area, or no longer wishes to stay on the register.
Parameters noted at first registration: patient's social security number (linked and matched to Sweden's official Population Statistics); gender; age; date of diagnosis; profession or former profession; smoking habits; civil status; number of children; mobility; exercises habits and Body Mass Index. Also recorded are details regarding the nurse responsible for ulcer care; if the ulcer is a recurrent, new or traumatic ulcer; actual or earlier concomitant diseases; actual medication with particular interest in analgesics and antibiotics, and ulcer-related pain or anxiety.
In the anamnesis the focus is on these parameters: Deep Vein Thrombosis (DVT), varicose veins; arterial or venous surgery, history of recurrent leg ulcers, ulcer localisation: foot, leg, sacrum/hip and lateral or medial localisation. Ulcer size is also measured by digital planimeter (Visitrak) and the number of ulcers is noted. The patient's circulation is assessed by palpation of arteria dorsalis pedis and arteria tibialis posterior, as well as measuring blood pressure using a hand-held Doppler, also used for measuring deep or superficial venous insufficiency (vena saphena magna, vena saphena parva and vena poplitea). 'The diagnosis is set by using these parameters together with the clinical examination,' continued Dr Öien. 'The following ulcer diagnoses are used: venous, arterial, venous-arterial, diabetic foot ulcer, pressure ulcer, traumatic ulcer, skin malignancy, hypostatic eczema or other diagnosis.'
The strategy for wound management includes prescribed care for the skin surrounding the ulcer, its edges and ulcer bed, as well as treatment for oedema. A photo gallery is linked to the register to visualise the healing process.
Follow up at complete ulcer healing includes date of healing; time for healing (weeks); estimated number of weekly dressing changes to healing; compression therapy; treatment with antibiotics; the most used dressing material, and if advice was given on smoking cessation, exercises and diet. Adverse events are recorded at follow-up, i.e. amputation, venous or arterial surgery and death.
Every unit registers and has access to its own patients and visits. Registration can be done at any time and follow-up carried out when all the mandatory parameters are registered. The register manager supplies and annual report to all participating units, which can be used to compare its wound management quality with units country-wide.
An earlier study demonstrated significant improvements in hard-to-heal leg and foot ulcer care in Blekinge county from 1994-2005. 'Treatment time decreased from 1.7 hours per patient per week in 1994 to 1.3 hours in 2005. Estimated prevalence of hard-to-heal leg and foot ulcers reduced from 0.22% in 1994 to 0.15% in 2005. These results led to a significant reduction of annual costs by SEK 6.96 million (approximately 1 million euros) in the study area,' Dr Öien pointed out, adding that another explanation for the improved results was more frequent use of compression therapy (71% in 1994 and 90% in 2005), 'a key to successful treatment of venous leg ulcers'.
A further indicator of improved ulcer care is reduced daily dressing changes (20% in 1994 to 10% in 2005) and an increase in weekly changes (12% in 1994 to 32% in 2005).
In the past 5 years, RUT has been clinically adjusted and evaluated and become a national quality register. Since 1 January 2007, 177 patients have been registered, so registry results are not yet fully analyzed. 'Basic data from the adjusted register in 2003-2006 (n= 379) show a mean age of 73 years (13-97 years) with 69% women, a mean healing time of five months for ulcer of every aetiology and a mean ulcer area of 17 cm2. 54% of patients suffered heart disease and 11% had rheumatoid arthritis or other inflammatory disease.'
RUT has been implemented regionally and is in use in primary, community and hospital care throughout Blekinge county. It is being used in many dermatological departments and a number of county councils in Sweden and, since RUT has proved to be a guarantee for good clinical practice as well as for evaluation of quality, more participants are joining the register.
* Report published in the EWMA Journal (2/2009/41-44).