Role of simulation in surgical training
Rapid technological progress and the changed working patterns of surgeons has greatly increased the demand of simulated training in the United Kingdom, notes Professor Mike Larvin, Director of RCS Education at the Royal College of Surgeons in London, where a new Education and Simulation Centre is incorporating state-of-the-art education and training facilities in response to those changes.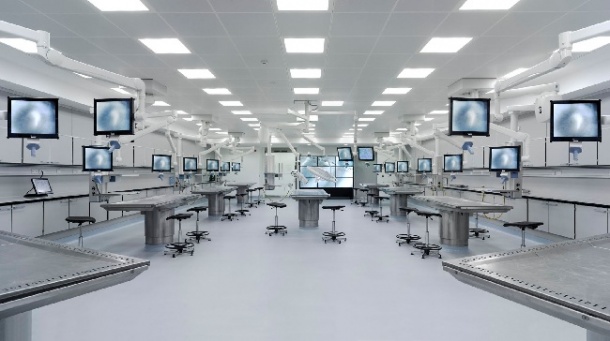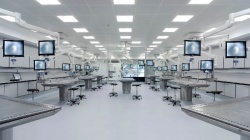 "Simulation training in surgery is becoming increasingly sophisticated and, as time for surgeons to learn has been reduced by working time regulations, this now forms a key role in the development of practical skills.
The recently completed Education and Simulation Centre at the Royal College of Surgeons' London headquarters houses state-of-the-art education and training facilities, and offers a wide range of courses for surgeons and the wider surgical team. The new facilities include a cadaveric anatomy centre, clinical skills unit, team skills training theatre and seminar and lecture theatres.
Courses aimed at early years' trainees are generic, but become more specific as they progress. Courses for trainees and consultants cover all nine surgical specialties, with many also aimed at sub-specialist interests. More recently RCS Education has developed courses that support the wider surgical team as well as other medical specialties, in recognition of increased multidisciplinary care of patients.
Surgeons attending our courses are able to learn and practice new skills, refresh existing skills or prepare for examinations in a safe, controlled environment with the support of expert surgical faculty and other specialists as required. All courses are carefully quality assured, whether delivered at the College and at our UK regional centres. A range of simulation techniques are incorporated into training courses, from simple plastic models on which trainees can practice stitching, to performing surgery for the first time using donated cadaver tissues, or learning about teamwork and leadership in our state-of-the-art operating theatre suite.
The introduction of fresh frozen training to the UK has greatly enhanced procedural simulation, providing a close match to the anatomical structure of living patients when dissecting or handling tissues. This allows trainees to use the latest technology to practice and develop their operative skills. Embalmed material can be used, but the process renders the tissues stiff and so less lifelike for training.
The College's Wolfson Surgical Skills Centre is the UK's largest cadaveric dissection facility, and is equipped to use either 'Soft fix' embalmed or fresh frozen cadaveric material to simulate specific operations. The centre has nine specially designed anatomy dissecting tables to accommodate up to 36 participants.
The room incorporates state of the art audio visual facilities with each dissecting table provided with a mounted screen for close-up viewing of procedures, and permits live demonstration links to other lecture areas throughout the building or externally. In addition, there are two smaller demonstration rooms ideally suited for courses teaching procedures on smaller organs, such as Head and Neck Anatomy.
Our Clinical Skills Unit provides a flexible space that can be utilised for skills based training (for example suturing technique) in a laboratory environment and minimally invasive (keyhole) surgery skills using the integrated laparoscopic equipment supplied through boom arms able to recreate the entire range of simulation techniques. Laparoscopic procedures require different technical skills and dexterity to open surgery, and the Clinical Skills Unit is equipped to provide a realistic training environment to learn and develop both essential skillsets.
The Team Skills Training Theatre comprises a functioning operating theatre, recovery area and debriefing room and simulation can now be extended to the wider surgical team, including anaesthetists, radiologists, physicians, cardiologists and theatre nurses. All activity can be recorded and debrief techniques employed to monitor behaviour and team interaction. The theatre is equipped with the latest SimMan wireless 3G mannequin, with multi-angle video capture offering simulation training and creating numerous opportunities to develop and teach teamwork skills.
The clinical skills unit and team skills training theatre can be combined to simulate critical incidents and major disaster scenarios, such as road traffic accidents and life-threatening anaesthetic or surgical complications can be set up while experts observe and provide feedback to the theatre team.
The Education and Simulation Centre has a team of highly trained surgical resource technicians to provide technical advice and expertise and support the setting up and running of courses and events."

Course details: RCS Educatio.
Phone: +44 (0)20 7869 6300
Email: education@rcseng.ac.uk
Website: www.rcseng.ac.uk/education