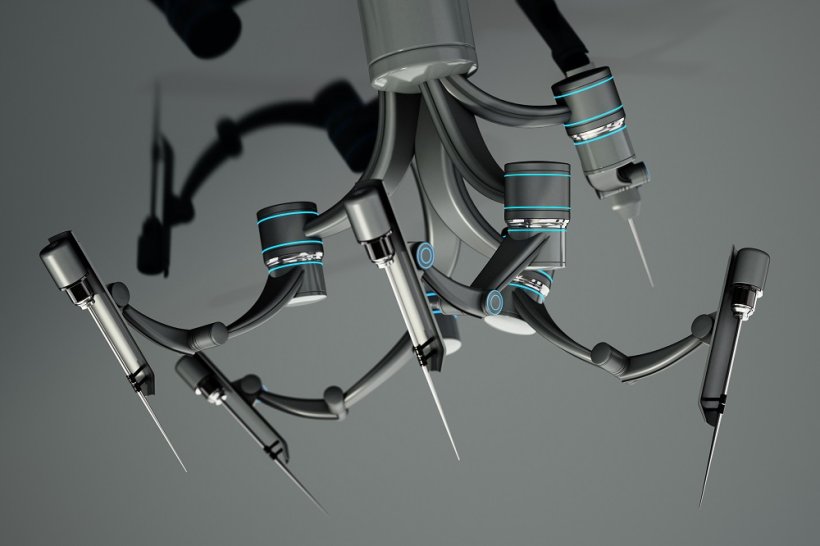 Source: Adobe Stock/Destina
Article • Technology advances
Robotic surgery: the importance of social sharing
During the first Chemnitz' Robotic-Symposium, two experts reported on the current state and the future of robot-assisted surgery and highlighted why it is a good time to be involved in this field of technology.
Report: Sascha Keutel
Once thought of as technique viable only in a far-off future, the use of robotics in surgery now is part of everyday life. The current systems are 'essentially master-and-slave-devices', said Henry Tilney, MBBS, MD, FRCS, Consultant Colorectal and Robotic Surgeon, UK-Frimley Health NHS Foundation Trust. These machines are not autonomous, they are under the control of the surgeon in the operating room at all times.

Robotic surgery can be used for many types of procedures, including cancer operations, colon surgery and prostate, gynaecologic and cardiothoracic cases. Despite the rising number of procedures and systems, there are several dissenting voices. 'The criticism we sometimes get labeled with is that we are big boys with big toys,' Tilney says.

Yet there are real benefits to using robotics for patients. He pointed out that two known limitations of conventional laparoscopic surgery were the degrees of freedom and the mobility of instruments. The expert pointed out that robotics have a greater degree of movement within the abdomen and thus allowed the surgeons to essentially place mini versions of their hands in the abdominal cavity. That way, they would be able to manipulate and make small-scale movements with greater precision. 'We get greater confidence in the dissection we carry out and preserve the critical structures we're trying not to damage,' Tilney said.

Additional benefits are that minimally invasive robotic interventions lessen the potential complications of larger wounds and shorten the patients' convalescent periods.
Recommended article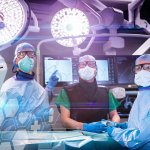 Article • Robotic surgery
Dr Jan Stallkamp, Professor for Automation in Healthcare and Biotechnology, has a vision: robots that can treat patients more efficiently and more precisely than any human physician.
The state of robot-assisted surgery
The major player in the market of robotics is Intuitive Surgical. Founded in 1995, the company introduced its first da Vinci system in 1999. Since then, the platform has gone through several refinements to become the benchmark that other systems are measured by. 'The "Ferrari of robotics" is the Intuitive 4th Generation Xi,' said Joel Dunning, MD, MB.BCH, Ph.D., FRCS, Consultant Thoracic Surgeon, Department of Cardiothoracic Surgery, James Cook University Hospital. He added: 'Intuitive is really thinking about the best way to the actual mechanics of the robotic system itself.'

Another central player is CMR Surgical, which was established in 2014. Because they had some experience with robotics, Tilney's team got involved with CMR in the early days of the company to help validate their Versius system. 'We have always believed that the systems we have now are not the systems that we will use in the future,' Tilney said and added: 'We wanted to be involved in the development of other systems to be part of what we termed "the democratisation of robotics".'

One major difference in the systems is Versius' open console, which allows better interaction between the scrub team and the surgeon. The da Vinci system, however, allows for a more immersive experience when surgeons put their heads into the box console. Yet, for Tilney, the difference is a matter of personal preferences. 'We have two operating theatres with the Versius and da Vinci next to each other, and we can move comfortably between the two.'
Recommended article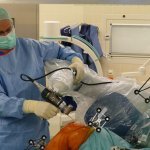 Article • Safe navigation
Professor Dr Henning Windhagen is a great fan of semi-automatic systems that help with implants but leave the surgeon in the driver's seat.
More players
Besides da Vinci and Versius, several other systems are coming to market, e.g., Johnson & Johnson who, in 2019, acquired the remaining stake in Verb Surgical Inc. from Verily Life Sciences, a unit of Google parent Alphabet Inc. The companies had collaborated on surgical robotics since 2015.
In 2020, Johnson & Johnson unveiled their Ottava platform, which features six arms to provide more control and flexibility in surgery, while its arms are integrated into the operating table. The company plans to start first in-human studies in 2022.

The "new kid on the block" is Hugo by Medtronic. In 2021, the system was used in its first-ever patient procedure: a minimally invasive prostatectomy performed in Santiago, Chile. Each part of Hugo's system is housed on a separate rolling cart and the surgeon can control up to four independent robotic arms during the procedure from one console.

'I think more competition and more systems are only a good thing for robotics. It's an area that is exciting to be in at the moment because it is developing so rapidly,' Tilney said.
The future of robotic surgery
'Get away from the notion that the exciting thing about robotics is which system you are going to use – because they all are going to be good,' Dunning said. For him, the future lies in sharing and scoring surgeons' videos. He pointed out that all players are working on solutions that imbed the capacity to capture videos during surgeries.

One such surgical data management and learning platform already exists. Run by Johnson & Johnson, CSATS allows surgeons to track their performance, and refine their skills based on AI-driven clinical insights and analytics as well as assessment from board-certified surgical experts.

'If we have an ecosystem in which we can share our robotic surgery videos, we are going to see it. We are going to learn and want to do it in that fashion. And that will become a vast advance in any randomised studies," Dunning said.

'Let's innovate in robotics as well as in non-robotic surgery to decide what the best operation is. But the way we are going to innovate is by sharing our videos, by remote telementoring, and by patching into each other's theatre,' Dunning said. 'This is what's going to keep patients safe because we will be able to assess each other. This is why robotics is better than non-robotics, because of the ecosystem that is being built,' he concluded.