Sponsored • Distant experts observe adverse signs
Remote cardiac monitoring
For cardiology patients fitted with an implantable cardiac monitor, cardioverter defibrillator (ICD) or pacemaker, home monitoring is a blessing. The system also has many advantages for medical staff, as Kristina Rauholt reports.
The nurse and Certified Cardiac Device Specialist for Allied Professionals (CCDS) at the Sahlgrenska University Hospital, in Sweden, has worked with home monitoring systems for cardiology patients for many years. She explains how patients and doctors benefit – and how remote monitoring has changed during the COVID-19 pandemic.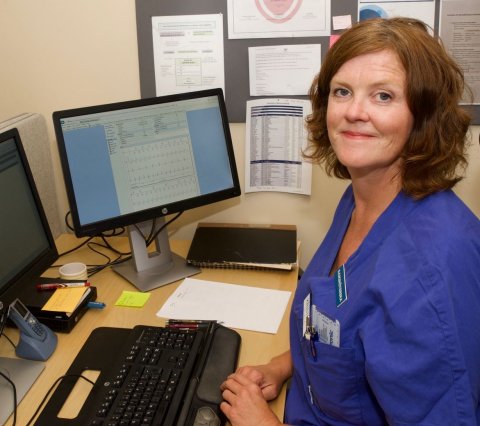 Home monitoring systems have been used at the Sahlgrenska University Hospital since 2008. They ensure that the devices work and support patients reliably. 'Every morning we evaluate the report which the system generates automatically when an irregularity is registered,' Rauholt explained. Home monitoring detects changes in heart rhythm, for example ventricular tachycardia or atrial fibrillation. Patients often do not even register these changes, because at first they may not cause any symptoms. 'One of the biggest advantages for us is that the system also alerts us to these "silent problems",' the expert pointed out.
Vice versa, the data can also be utilised when patients report symptoms that indicate heart problems. 'It's an important means of backing up a diagnosis,' she said. This is also the basis for adjusting medication or for synchronising the rhythm more precisely with the help of the implant.
The remote solution saves time, work and cost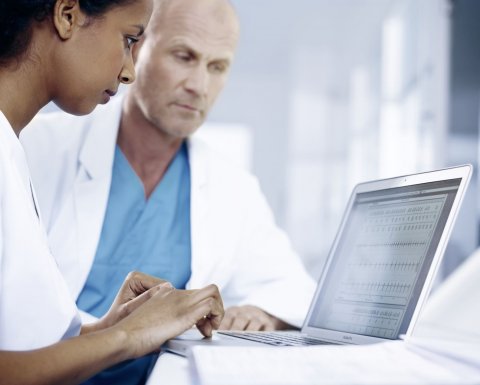 The cardiology team evaluates the data sent from the home monitoring system via the mobile network and asks patients to come to the hospital for further investigations if necessary, the expert explained. 'The evaluations also help us to check whether the implant is working correctly – something which patients who have only just undergone surgery tend to worry about. If a patient knows we are continuously monitoring the implant during office hours, this provides a lot of reassurance.'
The home monitoring system raises the alarm if the implant causes problems. 'There are cases where there is a risk that the electrode of an implanted defibrillator will shock the patient, when this is not necessary. This malfunction can become dangerous if it is not detected in time.' GPs are only rarely involved in home monitoring; they may merely use the data generated to confirm a suspected diagnosis, Rauholt said. Accident and emergency doctors, on the other hand, frequently request these evaluations when they need to check whether the ICD has already applied an electric shock.
The quality of remote follow-up examinations is equivalent to that of face-to-face examinations – without patients having to make their way to the hospital

Kristina Rauholt
At Sahlgrenska University Hospital around 800 patients are now connected to the home monitoring system. Cardiologists are only informed about irregularities. 'If all is well with the patient, we don't need any notifications as it would not be possible to cope with the amount of work created,' she added.
Patients benefit from this system as they do not have to go to hospital for as many check-ups. A large number of routine follow-up examinations can be carried out via telemedicine – a significant cost- and labour-saving for the hospital. 'The quality of remote follow-up examinations is equivalent to that of face-to-face examinations – without patients having to make their way to the hospital.'
Particular advantages in times of COVID-19
The latter has become particularly relevant during the COVID-19 pandemic. 'Many patients are anxious and worried about the risk of contracting the virus during a hospital visit.' The standard six-week follow-up examination after surgery has therefore been changed to a tele-examination. Patients are called and asked about their health and whether or not they are experiencing problems with their surgical scars or any other issues 'We used to deem this in-house examination to be very important, Rauholt said. 'However, over the last few months we've had really good experiences with remote follow-up examinations. Patients no longer have to worry about a nosocomial COVID-19 infection, and the tele-examination also causes less time pressure and allows for time more intensively spent with a patient.
Opportunities and challenges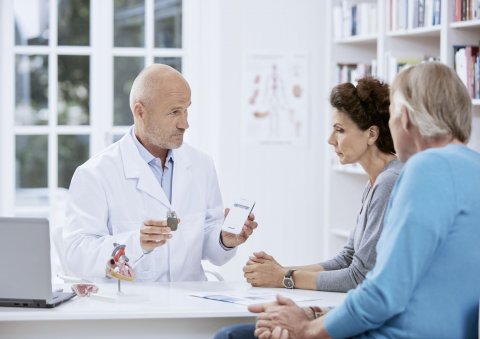 Home monitoring of cardiac patients is an effective tool to considerably reduce strain on patients and hospital staff, Rauholt concludes. 'The system is very reliable. However, the evaluation of the reports requires experience because there is a certain learning curve involved.' The European Heart Rhythm Association (EHRA) awards the respective certificates which confirm expertise in dealing with these cardiac devices.
This experience can help avoid pitfalls. 'For example, certain drugs make patients experience atrial fibrillation and cause a change in heart rhythm. This is an intentional and desired effect; however, the system perceives it as arrhythmia,' Rauholt pointed out. 'If we know about this effect, we can easily identify the resulting notifications as false alarms and act accordingly.'
At the end of the day, she concluded, home monitoring has reduced many of the obstacles for both medical staff and patients – and has proven a particularly beneficial tool during the COVID-19 pandemic. (WB)
Profile:
Kristina Rauholt-Lundkvist has been a nurse at the Sahlgrenska University Hospital in Sweden since 2006. She is certified as a Cardiac Device Specialist (CCDS) by the European Heart Rhythm Association and the American Heart Society and, as such, manages the monitoring, follow-up and programming of Cardiovascular Implantable Electronic Devices (CIEDs), such as Implantable Cardioverter Defibrillators (ICDs), Cardiac Resynchronisation Therapy (CRT), Pacemakers and Loop Recorders.