Rehacare International 2008
The number 1 fair for people with special needs, those requiring care and the chronically ill the REHACARE 2008, takes place from 15 to 18 October, Halls 3 to 7 of the Düsseldorf Trade Fair.The event will host 800 exhibitors from 30 countries presenting assistive devices and services to facilitate independent living.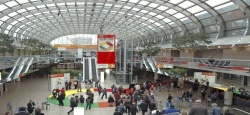 More than a third of exhibitors come from abroad. Many countries will take the floor with joint participations, including Denmark, France, the United Kingdom and Taiwan.
Producers, vendors and over 100 disabled people's and self-help organisations showcase their products and services at REHACARE INTERNATIONAL 2008 in a wide range of categories: daily living aids, household and nutrition, physical care and hygiene, mobility, communication, building and living, safety and monitoring systems, teaching, education and training, workplace and occupation, physical training, physiotherapy and ergotherapy, orthopaedic aids, nursing and medical care, clothing, protective equipment, leisure, sports, recreation and travel.
There has been an excellent response to the REHACARE DESIGN AWARD 2008/2009, a sectoral contest in which Messe Düsseldorf offers exhibitors the opportunity to compete for a high-calibre seal of quality. red dot projects, Essen, who organise and oversee the contest, have already received 50 registrations. A jury of top-notch design experts will meet in Düsseldorf at the end of September to assign Good Design, Best Design and Best Innovation awards. All award-winning products will be on show in a special exhibition on the ground floor of Hall 7 for the duration of REHACARE 2008.
Alongside presenting technical innovations and refinements, REHACARE also continues to have a strong focus on information and exchange of opinion. A new event in this year's programme is the Assistive Technology Forum staged by the German Medical Technology Association (BVMed), Berlin. Held in Hall 5, the Forum centres on the current and future provision of assistive technologies by statutory health insurance funds. This highly topical and important complex of issues will be explored by participants representing industry associations, legal experts, providers, health insurance funds and affected groups.
The Living Dream congress at REHACARE INTERNATIONAL 2008 on 16 and 17 October features four half-day series of talks, with 22 presentations and two panel discussions on independent living with services and technologies for all stages of life. The event is organised by Messe Düsseldorf in cooperation with leading experts from the research and policymaking, architecture and construction, technology and care sectors.
The congress is supplemented by a theme park of the same name in Hall 3. A craft trades cooperation, "Leben ohne Barrieren" ("Barrier-Free Living"), presents examples for disabled-friendly and seniors-friendly living on some 500 square metres of exhibition space. Bannered "Zeit zu Leben" ("living life to the full") and covering four discovery areas, the exhibition displays barrier-free furnishings together with smart technology for the kitchen, bathroom, living room and bedroom as well as for nursing care. Even more ideas and information on building and living are on show at the stand of the German Society for Gerontological Technology (GGT), Iserlohn, with many partner companies in attendance.
Other exhibitions in Hall 3 include "Market Place Brain" specialising in aids for sufferers of brain injury, stroke or acquired brain damage, the large "News from the Workplace" show, as well as the REHACARE cinema presented by the Disability and Media Association (abm) and exploring the many facets of life for people with disabilities.
The needs of children with disabilities and of their families are the theme in Hall 4. Alongside exhibitors showing innovations in aids for children, visitors will find the Children's Network and the rehaKIND association, which helps forge contacts with rehabilitation and therapy providers and gives tips on the suitable provision of child-friendly aids. Fun and action are guaranteed at Kids' World, put on in the same hall by Aktion Mensch, a major German disability charity. Innovations for blind or visually impaired people and for those who are deaf or hard of hearing are on display in Hall 5. Large amounts of exhibition space in Hall 6 are dedicated integrated travel and disabled-friendly vehicles. Hall 6 also houses the Café Forum, where experts from BAG Selbsthilfe, the German umbrella association of self-help groups, are at the ready with help and advice on problems faced by affected individuals in everyday life.
An entire exhibition hall is once again given over at this year's show to handicapped sports. The Sport Center in Hall 7a showcases the many and varied opportunities open to people with disabilities and chronic illnesses to take part in sporting activities. Finally, REHACARE 2008 is also a platform for artistic talent. An exhibition by Studio 111 from Düsseldorf on the ground floor of Hall 7 displays complelling pictures created by disabled artists. REHACARE INTERNATIONAL 2008 is open from 10am to 6pm on 15 to 17 October and from 10am to 5pm on Saturday 18 October 2008. Tickets cost EUR 12. Disabled visitors, school students, trainees and university students pay EUR 7. Individuals escorting holders of disabled identity cards indicating the need for permanent accompaniment will be admitted free of charge.
http://www.rehacare.de/.