Sponsored • Blood flow imaging
A new tool box enhances heart failure diagnosis
One of the challenges for every echocardiography lab is the technically difficult patient. Conventionally, labs use contrast agents to enhance endocardial border visualization. The application of contrast agents increases the exam time, resources and costs. Additionally, the use of contrast turns a previously non-invasive exam into an invasive procedure.
Source: Hitachi Medical Systems Europe
Hitachi Healthcare has now developed a collection of cardiovascular analytic tools called HemoDynamic Analytics (HDAnalytics). These tools can be used for evaluation of the left ventricle (LV) when visualization is limited. One of the main applications of the collection, LV eFlow was designed to demonstrate the discrimination between the blood flow and the cardiac tissue and offer an alternative to contrast agent use in some cases.
LV eFlow is a high-definition left ventricular cavity blood flow imaging mode which substantially improves spatial and temporal resolution for a better visualization of the endocardial border in the left ventricle. The new tool operates with higher sensitivity and resolution than conventional methods. LV eFlow may change a technically difficult study into a diagnostic exam without using contrast agent.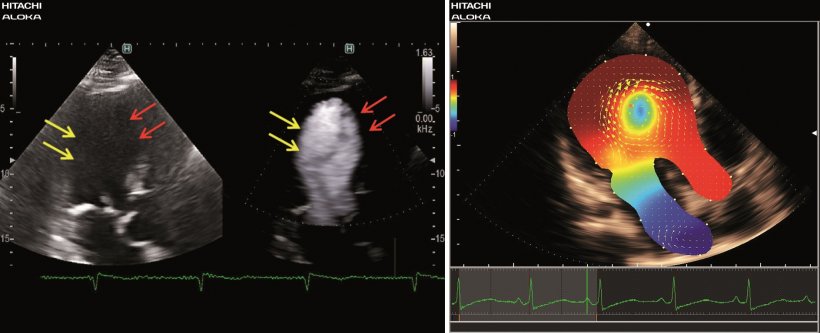 Source: Hitachi Medical Systems Europe
Head-to-head with echo contrast
Dr. Zuyue Wang and technologist Marvin Tyson of MedStar Washington Hospital Center had an opportunity to use this technology in their practice over a period of 3 months. Their protocol included identifying patients that were candidates for contrast agents due to the difficulty in visualizing the endocardial border of the left ventricle. LV eFlow was added to the exam protocol for this patient set. Following the exam, the quality of the endocardial border delineation was evaluated by comparing the LV eFlow images with the images using contrast agents.
Dr. Wang and Marvin Tyson compared LV eFlow and echo contrast agents in patients with suboptimal image quality and were impressed with the results. They found that "LV eFlow was comparable to echo contrast in improving visualization of difficult-to-image segments in selected patients". Additionally, they found "a markedly more precise endocardial border delineation" and stated that "contrast agents should only be utilized when LV eFlow fails to enhance the endocardial borders".
Vector Flow Mapping & Dual Gate Doppler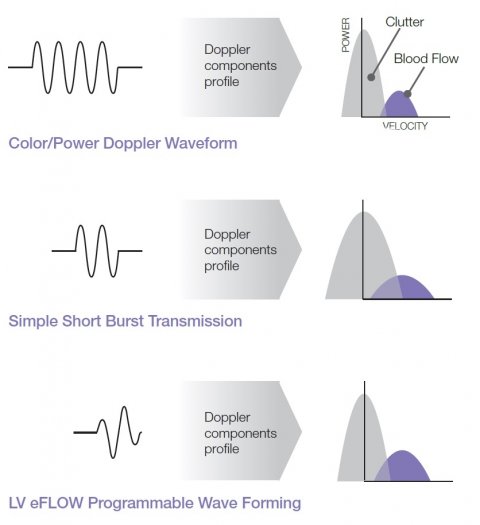 Another tool in the HDAnalytics collection is Vector Flow Mapping (VFM), a novel and validated application that allows users to assess cardiovascular blood flow distribution in an observation plane. This non-invasive technique is derived from the Color Doppler velocity data and generates the velocity fields on the 2D image. This allows to visualize, measure and analyze different parameters from the blood flow distribution. For example, energy loss which is the rate of energy dissipation due to blood viscosity, increases where turbulence flow occurs. In addition, wall shear stress, relative pressure and vortex characteristics can be evaluated.
The Dual Gate Doppler (iDGD) generates a full Fast Fourier Transform (FFT) analysis and display from two separate sample gates allowing measurements from two different locations during the same cardiac cycle. Hitachi Artificial Intelligence technology enables automatic sample gate placement and measurement at appropriate heart beats, resulting in 5 seconds to get E/e' (83% shorten time compared with conventional measurement). Furthermore, iDGD works well for PW/PW and TDI/TDI combinations
2D tissue tracking (i2DTT)
With 2D Tissue Tracking (i2DTT), the HDAnalytics set also provides an advanced tool which allows users to track the displacement of the cardiac tissue by using a novel and accurate algorithm of "Speckle Tracking". Doppler based methods such as TDI are limited in evaluating the displacement velocity of the tissue due to angle dependency. i2DTT allows the detection of velocity components perpendicular to the beam which is impossible with conventional Doppler techniques. Tracking image by image, the natural patterns of the cardiac tissue in B-Mode permits the user to quantitatively evaluate the movement and the thickening of the myocardium. i2DTT provides precise quantitative information such as longitudinal and radial strain, torsion rotation angle, displacement, wall thickening and various other parameters to visualize, quantify and analyze myocardial mechanics. Applications include cardiac function analysis, resynchronization therapy, cardiomyopathy, stress echo and other global and regional studies.