Article • Advancing diagnostic accuracy
PSMA PET/CT in prostate cancer evaluation
Hybrid PET/CT imaging can fully play to its strengths and steer treatment towards more effective procedures for diagnosing prostate cancer. The examination of the specific antigen PSMA with hybrid PET imaging enables treatment monitoring with significantly higher diagnostic accuracy than conventional imaging and therefore, Professor Clemens Cyran believes, will soon become the standard diagnostic method in prostate carcinoma management.
Cyran, the President of the European Society of Hybrid, Molecular and Translational Imaging (ESHI,) explains how PSMA PET/CT can advance diagnosis and therapy and looks at the obstacles to overcome along the way.
As a diagnostic procedure, how does PSMA PET/CT affect treatment prostate cancer treatment?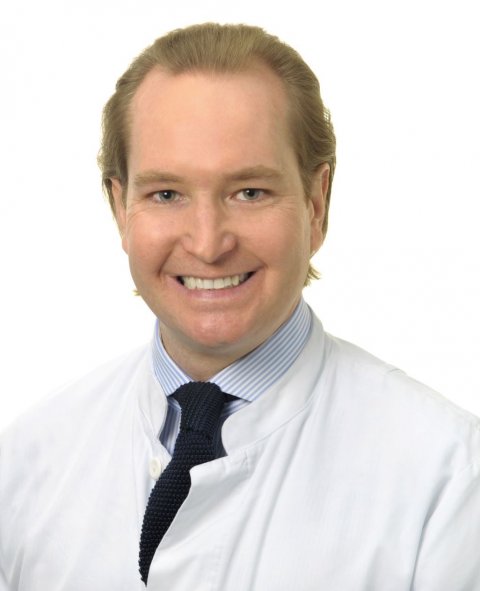 Clemens Cyran: 'The current focus is on high-risk patients with a Gleason Score over seven, a PSA level over 20 or with clinical stages T2c to T3a. These patients are at high risk of having metastases, particularly in lymph nodes and bone. These can be identified with significantly higher diagnostic accuracy using PSMA PET/CT than with conventional imaging. The actual tumour stage can be determined much more reliably and, consecutively, appropriate treatment can commence in due time.
Despite the fast clinical translation of PSMA PET/CT, and more than convincing study data in prostate cancer management, we are a long way off its broad application. On the one hand, there are not enough PET/CT scanners available in Germany to provide comprehensive care, on the other broader availability of radiopharmacology centres for the production of radiotracers is necessary. Fortunately, 18F (fluorine)-labelled PSMA tracers are now available which can be delivered over longer distances due to the longer half-life. The lack of approved and sustainable reimbursement structures for PSMA PET/CT in statutory healthcare poses another relevant challenge.
Health-political realities prevent the implementation of an effective diagnostic procedure for general healthcare which would facilitate efficient treatment control for patients based on precise and personalised diagnostic data. With few exemptions, this generally applies to the limited reimbursement structures of PET/CT scanning in oncological diagnostics by the statutory medical insurers in Germany.'

How important is this examination?
'We are looking at a "diagnostic disruptor" here, with the potential that an effective, high-quality diagnostic tool impacts the course of a population-based disease. There may also be a perspective that PSMA PET/CT also achieves a reduction in morbidity and mortality for the three main indications in oncology – primary staging, treatment monitoring and biochemical recurrence – through optimised treatment control.'
Which patient group benefits most?
'At the moment the focus is on patients with biochemical recurrence: If a patient's PSA level rises again after prostatectomy, the urologist knows that there must be a recurrence, albeit without being aware of where the metastases are located. This is due to the comparatively lower sensitivity of CT and MRI imaging, particularly for the detection of small metastases in the lymph nodes and bone. In reality, an early recurrence frequently represents a failure of staging: The apparent recurrence is actually a metastasis not detected during primary staging due to insufficient sensitivity.
Over the last years a broad data basis on the role of hybrid imaging with PSMA ligands has been established for the management of prostate cancer [Roach et al., 2018 ;J Nucl Med and Calais et al., 2018; J Nucl Med]. In radiation therapy, the planned clinical radiation field changed in 87.8% of cases compared to CT due to additional information provided by PSMA PET. This not only applies to biochemical recurrence but also to primary staging, and can also be applied to salvage radiotherapy. A recent prospective study [proPSMA; J Clin Onc 2019] from Australia confirmed the advantages of PSMA PET/CT over current standard-of-care diagnostics and its potential as a first-line diagnostic modality in primary staging of high-risk prostate carcinoma.'
Would this change also make sense financially?
We assume that, in a few years' time, the funding bodies will call for integrated diagnostics to be the prerequisite for the indication of treatments to implement efficiency-oriented pay-for-performance reimbursement models in the healthcare system

Clemens Cyran
'We believe that the use of sensitive and specific diagnostic modalities, such as PSMA PET/CT, will lower the cost of treatment. If you combine imaging with liquid biopsy, pathology and genetics this will lead to more precise therapy guidance which, in turn, will result in more efficient treatment. In the future, algorithms will process comprehensive multimodal, diagnostic data and will derive evidence-based therapy recommendations. This concept of integrated diagnostics and clinical decision algorithms has enormous socio-economic relevance for our healthcare systems. We assume that, in a few years' time, the funding bodies will call for integrated diagnostics to be the prerequisite for the indication of treatments to implement efficiency-oriented pay-for-performance reimbursement models in the healthcare system.'
Profile:
Clemens Cyran is Professor of Radiology and Vice-Chair of the Department of Radiology at LMU University Hospitals Munich, Germany. After graduation from Medical School in Munich, he became a postdoctoral research fellow at the Center for Pharmaceutical and Molecular Imaging, University of California San Francisco, from 2006 to 2007. He completed his radiology residency in Munich in 2013 and is also board certified in diagnostic nuclear medicine. Cyran's research focus is on the development and validation of imaging biomarkers of therapy response in oncology using multimodality hybrid imaging techniques, including MRI, multi-tracer PET and optical fluorescence imaging. Current projects investigate methods of automated image analysis of digital molecular imaging data using artificial intelligence based algorithms, as well as automated analytics of multidisciplinary diagnostic data in integrated diagnostics. The professor is also president of the European Society for Hybrid, Molecular and Translational Imaging (ESHI).
References:
[1] Roach et al., 2018: The Impact of 68Ga-PSMA PET/CT on Management Intent in Prostate Cancer: Results of an Australian Prospective Multicenter Study. J Nucl Med 2018; https://doi.org/10.2967/jnumed.117.197160

[2] Calais et al., 2018: Impact of 68Ga-PSMA-11 PET/CT on the Management of Prostate Cancer Patients with Biochemical Recurrence. J Nucl Med 2018; https://dx.doi.org/10.2967%2Fjnumed.117.202945
[3] proPSMA: A prospective randomized multi-center study of the impact of Ga-68 PSMA PET/CT imaging for staging high-risk prostate cancer prior to curative-intent surgery or radiotherapy.; J Clin Onc 2019; https://doi.org/10.1200/JCO.2019.37.7_suppl.TPS138