Promising preliminary breast trial results
During a symposium at ECR 2010 SuperSonic Imagine presented the preliminary results of the largest breast trial ever undertaken by an ultrasound company involving 956 breast cases.

Some of them were presented to approximately 350 visitors by Prof. Ingrid Schreer, Kiel, Germany.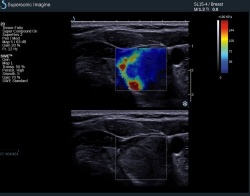 The worldwide, multicenter study includes prestigious centers such as Hammersmith Hospital Imperial College (UK), Institut Curie in Paris (France), DKD Wiesbaden (Germany) University Hospitals Schleswig-Holstein and Greifswald (Germany), Yale Medical Center and Northwestern Memorial Hospital (USA). The goal of this clinical study is to demonstrate the benefit of adding elasticity imaging to gray scale ultrasound for lesion classification. Preliminary results confirm that ShearWave Elastography features are reproducible and when these features are added to the
BIRADS® (American College of Radiology) classification, they globally increase the trade-off between sensitivity and specificity and raise the percentage of correctly classified lesions in both benign and malignant categories. Overall, diagnostic accuracy is increased when ShearWave Elastography features are used to better classify BIRADS® 3 and BIRADS® 4 categories with a clear benefit in patient management towards follow-up or biopsy.
But MultiWave Technology not only proofed beneficial for the detection of breast cancer: Prof. Nicola Grenier, Bordeaux, France showed impressive examples of the kidney, Prof. Eddy Leen, London, UK, concentrated on the liver and Hergé Monpeyssen reported about his experiences using MultiWave Technology for examinations of the thyroid.
What is MultiWaveTM Technology?
MultiWave Technology is based on the interaction in tissue between conventional longitudinal waves,
or B-mode, with shear waves. Aixplorer is the only system available that can generate, capture and
quantify shear wave velocity resulting in the bi-dimensional display of true tissue elasticity.
Aixplorer® exploits two types of waves to better characterize tissue:
• One ultrasound wave to ensure outstanding B-mode image quality. With SonicSoftware™
tissue conspicuity, lateral and contrast resolution and delineation of structures are improved
and render impeccable image quality
• One ShearWave™ to measure and display, in real-time, true local tissue elasticity in
kilopascals
More on the subject:
More on companies: