Pictures help illiterate patients take medicines correctly
Using pictures and symbols, rather than handwritten words, on prescriptions helps illiterate patients take their medicines correctly when they leave hospital, say doctors today. The idea was first tested in a hospital in Pakistan using simple pictures of the sun, moon and stars to help patients understand when and how long to take their medication for.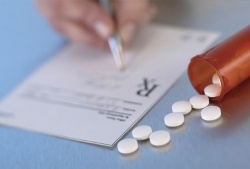 Published as a BMJ Quality Improvement Report – an open access forum to help clinicians share improvement ideas - the project has now spread and is currently being rolled out in Canada.
Doctors hope it will soon be adopted in the UK, where a recent survey estimated that one in five adults is 'functionally illiterate.'
The initiative began when Dr Matthew Clayton and colleagues, working in outpatient clinics at Services Hospital in Lahore, noticed very poor levels of adherence to patients' "take home" discharge medication, particularly among the 48% of illiterate patients at the hospital.
Analysis revealed that only 5% of illiterate patients understood their handwritten discharge prescription when leaving hospital. Even with counselling, only 12% understood the discharge prescription correctly.
Non-adherence can have serious health implications, such as relapses, drug resistance from under-dosing and possible accidental overdosing.
So Dr Clayton and his team designed a new discharge prescription form, using pictures and symbols rather than words to convey the necessary information. For example, instructions like 'bd' (twice a day) and 'tds' (three times a day) were replaced by pictures of a sun rising over the mountains to represent morning, and a moon and stars to represent night time.
Hospital pharmacists were then asked to write the number for each medication on the form onto the box or strip of tablets. Posters were also produced to help pharmacists understand the new system. Repeated surveys showed that 23%-35% of illiterate patients understood the new forms compared with only 5%-12% who understood the old handwritten forms.
The full results are published in the BMJ Quality Improvement Reports journal.
The authors acknowledge that there is still room for improvement. However, they believe the initiative "is likely to be of benefit to large numbers of patients" and feel that the project "is applicable to other patient populations with low literacy rates."
Mobasher Butt, Clinical Lead at BMJ Learning and Quality Improvement, said: "On average it takes 17 years for clinical research to become routine practice. By rapidly publishing projects that have made a real improvement to clinical practice in a fully searchable open access format, BMJ Quality Improvement Reports is a fantastic vector for sharing improvement knowledge."
He added: "Having fast, detailed access to what has, and hasn't, worked in other healthcare settings as well as the ability to contact other improvers directly is an invaluable tool to organisations who wish to research and improve a clinical problem."