PET-CT vs. whole-body MRI
For many indications, because PET-CT produces a very high accuracy for many tumours, this modality is the gold standard, Prof. Reiser confirmed. It also enables good observation of the course of the disease. After an injection of radioactive tracers we can visualise increased metabolic activity in great detail and with high sensitivity. This is an increasingly important issue not only in primary diagnostics but also for follow-up. With PET-CT we can trace the reaction of the tumour to chemotherapy or in follow-up care we can look for recurring tumours.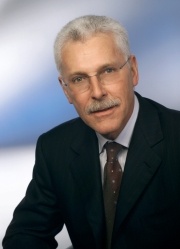 What are the oncological benefits of MRI compared to PET-CT?
'To detect lymph node and organ metastases in the entire body most cancers require a whole-body scan. Over the past few years MRI developed into a modality that not only offers whole-body scans but also has further advantages, such as no ionising radiation and high soft tissue contrast. For different tumours we compared FDG PET-CT with whole-body MRI and discovered that both modalities have certain advantages and are very similar in terms of accuracy.'
In which cases would he prefer to use MRI?
'Definitely for the detection of small metastases, for example in the brain or spinal cord. In these cases, FDG PET-CT is not suitable because the enhancement of the tracer in the brain is so high that only large metastases can be detected. Since several tumours, for example, breast cancer, tend to metastasise in the brain, MRI is the modality of choice because such findings are extremely serious and obviously impact on the therapy.
'MRI also detects small liver metastases and metastases in the skeleton, which are not necessarily detected by PET-CT. In general, it can be said that MRI is superior with regard to organ metastases. PET-CT, on the other hand, is the modality of choice for the detection of lymph node metastases. However, now there are also certain MRI sequences, so-called diffusion sequences, that can precisely visualise lymph node metastases. But, it remains to be seen whether we will have a lymph node contrast agent for MRI in the future. For research purposes, there already is such a substance, Sinerem, but this is not commercially available, yet. We'll see what further R&D will bring.'
As for the future role of MR/PET technology, the professor said: 'MR/PET is terra incognita. Initially, corporate and academic research has focused on the brain, since the aperture was too small for whole-body scans. Then, DFG, the German Research Foundation, issued a call for tender for several machines, which are scheduled for installation next year at different university research centres. MR/PET is a very interesting procedure, particularly if it can do whole-body scans.'
In view of such could PET-CT soon become obsolete? 'Not in the near future,' Prof. Reiser responded. 'Today, as far as I know, only hybrid PET-CT machines are being manufactured, for two reasons: first, CT data are combined with functional PET data; second, PET-CT allows for very exact attenuation correction of the PET component. Since these advantages are obvious, these hybrid machines have become very popular. FDG PET plays an important role in oncology, but the potential of PET technology, with its wide array of tracers, has not been fully exploited, as yet. We'll be able to gain more exact insights in tumour biology - targeted for each individual patient. For example, specific tracers were developed for apoptosis, angiogenesis or hypoxia. These are steps toward personalised medicine, meaning the exact analysis of tumour biology for the individual patient. Based on the PET-CT results, therapies can be designed that offer the patient optimum care.'
Because MRI will be used increasingly as a form of biomarker that reflects the molecular mechanisms of a disease, he pointed out, MRI can also contribute to personalised medicine, for example '…perfusion imaging, shows how the body handles the tumour. Anti-angiogenetic substances, tyrosinkinasis and mTOR inhibitors, which are used with certain tumour types, to some extent have similar effects on tumour perfusion. To determine only the size of a tumour or metastases is of little relevance in these targeted therapies. However, dynamic, contrast-enhanced MRI can offer parameters that seem to correlate well with the prognosis and response to a therapy. One example for this exact characterisation of tumours is the combination of PET-CT and high-precision radiation therapy, which delivers higher doses to hypoxic tumour areas.'
Radiologists and oncology
Imaging plays an increasingly important role in diagnostics as well as in therapy and follow-up. 'It is crucial to use modalities and techniques that are scientifically proven and recommended in the relevant tumour guidelines. Here, radiology, or rather the radiologist, assumes a central role. Developing guidelines is a time-consuming task and requires the cooperation of experts in different medical disciplines, radiology among others. Unfortunately, in some guideline commissions the representation of certain interests seems to be more important than scientific or empirical considerations. Nevertheless, radiology has to make an extra effort to have scientifically sound recommendations included in those guidelines that sooner or later will be the standard in everyday medical practice.
'A further important area for radiologists are interventional oncological procedures, such as chemo-embolisation, radio-embolisation, osteo- and vertebroplastics and radio frequency ablation. These procedures must be assigned a suitable place in the wide range of cancer therapies. The radiologist as competent contact person and partner should cooperate in the interdisciplinary oncological team,' the professor advised.
Finally, asked how quickly radiology will progress due to MR/PET, PET-CT and MRI, he said: 'Almost 20 years went by until PET has become a clinically proven method. That means we have to be patient. General imaging or FDG-PET and trying to gather a maximum of information for certain precisely defined indications are two very different things. Obviously I don't have a crystal ball, but in view of the performance and potential of the individual modalities I'd venture to say that radiology is looking at very exciting times ahead.'