PC diagnoses Alzheimer's better than physicians
Earlier, cheaper diagnosis predicted
Standard computers can be taught to diagnose Alzheimer's disease from brain scans, according to researchers at the Wellcome Trust Centre for Neuro-imaging at University College London.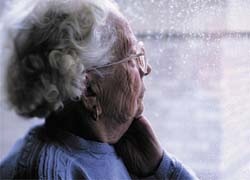 Publishing findings in the journal Brain, Professor Richard Frackowiak said the computers were better able to distinguish signs of Alzheimer's than humans, and proved quicker and more accurate than present methods, as well as less costly.
A standard computer was taught the difference between brain scans from patients with known Alzheimer's disease and people with no signs of the disease. These two conditions are distinguishable with high accuracy on a single clinical MRI scan, without the need for time consuming follow-up tests, the researchers pointed out.
Diagnosis via the standard computer obtained a 96% success rate; diagnostic accuracy from standard scans, blood tests and interviews by a clinician was 85%. 'Machines are clearly able to do that sort of thing better. It's beginning to look like it will have to come into clinical practice', Prof. Frackowiak said. 'In the long-run, we'd like to use these techniques as ways of classifying patients with something like a degenerative disease into various stages. From the point-of-view of developing new pharmaceuticals for these disorders,' he added, 'there's great potential.'
DBS may improve memory
Six patients are taking part in a pilot study to test whether deep brain stimulation (DBS) can help in early Alzheimer's disease to improve their memory. This follows a finding by a Canadian team of doctors who came across an interesting finding when using DBS to treat a 50-year-old morbidly obese diabetic, who suffered sleeping disorders and had failed to respond to diet, medications, psychological help, and had turned down gastric surgery.
DBS became an experimental option because, in animal tests, it has been shown to have an impact on appetite. It has not been widely tested as a treatment for obesity in humans, but the procedure has had some success in the treatment of Parkinson's disease, chronic pain, severe cluster headaches and depression.
Following the implantation of electrodes into the brain's limbic system (hypothalamus) which is thought to control the appetite, and stimulation by electrical impulses, the patient began to experience feelings of déja vu. The sudden perception of being in a park with friends followed, in which he was an observer. He felt younger, thought his age to be about 20, and that his then girlfriend was there. The scene was in colour, and as the stimulation intensity increased, details in this scene became more vivid.
Following surgery, the patient recovered for two months. Later, when the electrodes were stimulated for again, he experienced a similar effect. After three weeks of constant electrical stimulation the patient performed better in memory tests than he had previously done.
A year later he again performed well in memory tests when the electrodes were stimulated, but less well when they were switched off.
Reporting their findings in the Annals of Neurology, lead researcher Professor Andres Lozano, of the Toronto Western Hospital, said that this single case was completely unexpected, but added: 'We knew immediately it was important and were sufficiently intrigued to see if this could help people with memory disorders. Hopefully, we have found a circuit in the brain that can be modulated by stimulation, and which might provide benefit to patients with memory disorders,' said Professor Lozano.