Osteoporosis screening at the dentist?
Researchers from the School of Dentistry at the University of Manchester developed a technique to identify osteoporosis from ordinary dental x-rays. The software-based method has the potential to improve the early diagnoses of osteoporosis on a wide-scale screening level.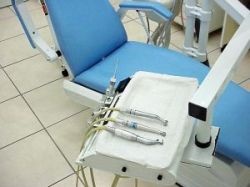 Osteoporosis affects almost 15% of Western women in their fifties, 22% in their sixties and nearly 40% in their seventies – despite these figures and even the pressure of the EU, there are no wide-scale screening methods viable to improve the identification of patients at risk.
The researchers therefore developed the software-based approach to detect osteoporosis during routine dental x-rays, by automatically measuring the thickness of a part of the patient´s lower jaw. The technology detects jaw cortex widths of less than 3mm – a key indicator of osteoporosis.
Professor Keith Horner and Dr Hugh Devlin from the University of Manchester co-ordinated this EU-funded collaboration with the Universities of Athens, Leuven, Amsterdam and Malmo. The idea behind it was, that x-rays are used widely in the NHS during general check-ups, and their use is on the rise. In 2005 almost 6000 x-rays were taken on female patients aged 65 or over in a single month! This is a great opportunity to automatically test even those people who are not aware that they are at risk of the disease.
The cheap, simple and largely-automated approach could be carried out by every dentist taking routine x-rays, yet the success rate is as good as having a specialist consultant on hand.