Orthobiologics are the future for bone healing
Autografts, the gold standard of bone grafts, have several limitations. As a result, new orthobiologics products are being developed for the benefit of patients as well as surgeons. Innovations in biomaterials and graft design have enabled these advanced products that mimic the natural human bone and speed up bone repair and regeneration.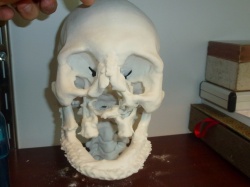 New analysis from Frost & Sullivan, Innovations in Bone Healing, finds that novel ceramic and polymer biomaterial technologies have improved the biocompatibility, osteoconduction and osteoinduction of bone grafts. Meanwhile, other breakthrough technologies like 3D printing, nanotechnology and stem cells have enabled not only healing but remodelling of the bone, thus attracting patients and surgeons seeking improved clinical outcomes.
"Patients are shifting from autografts to other bone graft substitutes in order to avoid the double surgeries the former method entails," noted Technical Insights Research Analyst Debarati Sengupta. "Moreover, procedural volumes are increasing due to the rise in elderly population and their associated bone problems such as osteoporosis and osteoarthritis, fuelling growth in the bone healing market."
However, the high cost of novel bone grafts creates difficulties in obtaining reimbursement, resulting in poor adoption rates in economically weak nations. Limited clinical trial data, which is necessary while going through the strict regulatory approval process, is another major challenge in the bone healing device industry.
"The industry needs to carry out extensive clinical studies that validate the safety and benefit of bone healing products to gain approval from regulatory authorities and reimbursement companies," explained Sengupta. "Only then can industry players avoid product-related safety issues like those faced by some prominent leaders in the market."
Bone healing product manufacturers should also implement competitive pricing strategies to boost market penetration and technology adoption. This will reduce customers' tendency to use less expensive alternates that are not technologically advanced.
For complimentary access to more information on this research, please visit here.

Source: Frost & Sullivan