News • B2B trade show
Medical Taiwan 2023: Get ready for Digital Health
According to BMI Research, the global market for medical devices was valued at US$ 454.3 billion in 2021, a 6.3% increase from 2020, and is expected to reach US$ 535.2 billion by 2024, with a CAGR of approximately 5.6% from 2021 to 2024.
Medical Taiwan, organized by Taiwan External Trade Development Council (TAITRA), is the one and only B2B trade show for the medical and healthcare industry in Taiwan. This event is set to bring together leading manufacturers, suppliers, importers and experts from around the world to showcase the latest innovations, technologies, and products in the field.
How new technology transforms healthcare
As the world's demand for advanced medical technology continues to grow, Taiwan is emerging as a powerhouse in the digital health sector. With its robust optical, ICT, and precision manufacturing industries, Taiwan is the perfect destination for cutting-edge companies seeking to expand their reach and connect with key technology partners.
With the launch of the new "Digital Health" exhibition area at Medical Taiwan, visitors will be able to explore a wealth of innovative companies, each specializing in wearable devices, personal mobile health technology, health monitoring equipment, smart sports, smart long-term care, health information technology, and communication technology. This exciting new area has been designed to specifically target the fast-growing markets for precision health and personalized health monitoring, providing exhibitors with the perfect platform to showcase their latest breakthroughs and capitalize on international business opportunities.
Medical Taiwan: Where business matching and healthcare advancements meet
Medical Taiwan 2022 attracted more than 6,000 visitors, an increase of 13% over the previous year, showing the huge development potential of the healthcare industry. The high-level managers with decision-making power accounted for the largest portion of visitors. They mainly came for the purpose of purchasing and understanding of the market trends, once again showing how Medical Taiwan could be an iconic place for business matching and exchanges.
Recommended article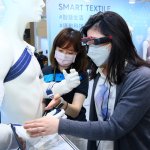 News • Exhibition overview
Holding its ground during the challenges of the pandemic, Health and Care Expo Medical Taiwan 2022 saw a 13% increase in visitors compared with last year, the organizers report.
In 2023, Events in the Medical Taiwan such as "One-on-One Procurement Meetings," "StartUp Health Festival," and "Future and Beyond Health+ Conference" will be held during the exhibition. With comprehensive business events, Medical Taiwan will provide a platform for exhibitors to network and build valuable business relationships, while attendees will have the opportunity to explore the latest advancements in medical and healthcare products and services.
Medical Taiwan will be held from June 8 to June 10, 2023 at Taipei Nangang Exhibition Center, Hall 2 (TaiNEX2). Applications for booth space at Medical Taiwan 2023 are open. Visit the official website for more exhibition information.
Source: TAITRA