Open MRI systems
Hitachi sets sights on Europe
In Europe, when you think of medical imaging technology the obvious names spring to mind: Siemens, GE, Toshiba and Philips. However, Hitachi, already a world leader in permanent magnet MRI, and with a reputation in open MRI systems, has a keen eye on the European market. According to Jan Reijnen, the firm´s Product Manager for MRI/CT in Europe, Hitachi has already installed more than 5,000 open MRI systems worldwide, mainly in the USA and Japan, and now hopes to establish a new system in Europe, the OASIS 1.2T vertical-magnetic-field superconducting MRI system.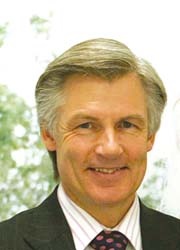 Jan Reijnen presents good reasons why more open MRI systems should be used in diagnostics: Hitachi's technical developments are now so advanced that the entire range of routine MRI examinations can be covered with a field strength of 1.2 Tesla. The company has decades of experience in the technical development of MRI scanners, and thus no major components were purchased i.e. the system was developed completely in-house. That's how image processing has been continuously improved, and he believes this to be a big advantage for his company compared with the competition.


Ultimately, the field strength of the magnet is not the only criterion for image quality. Next to magnet technology there is also the entire signal chain and the respective software. Under the label RADAR (Radial Acquisition Regime), in its latest generation of MRI scanners Hitachi operates a software tool that helps to improve the filtering out of movement- and noise artifacts.
The second important argument for MRI examinations with an open system is patient comfort, says Reijnen. Many patients are still too nervous about undergoing MRI examinations – a problem significantly alleviated by the use of open systems. The Hitachi Oasis system offers a free view of 270º, making it suitable for groups of patients with particular problems, e.g. children or obese patients.
He also sees major advantages in open systems for the examining doctors. Examination times can be shortened significantly, and the open system makes certain interventions, e.g. catheterisation or biopsies, possible. Additionally, MRI imaging is now of interest for further indications; for example orthopaedic specialists who want to study a musculoskeletal organ or a joint dynamically. Radiation exposure in CT examinations has been continually reduced, but still has to be considered and the effects of exposure to radiation should be viewed cumulatively. In this, MRI examinations are superior to CT scans.

New examinations, new customers
These extended uses for interventional MRI will produce new groups of customers. So far, Hitachi has mainly served the private European market. Jan Reijnen believes customers here are influenced by the fact that operating costs for an MRI with permanent magnet are approx. a third of the running costs for an MRI with superconductor. Unlike superconductors, permanent magnets do not need cooling to a certain temperature so the required infrastructure and running cost can be clearly reduced.
Another concern is the diverse European guidelines for MRI examination reimbursements: France requires a minimum field strength of 0.5 Tesla, whilst in Germany certain test specifications prevent certification for smaller Hitachi equipment. Next to Germany and France, Hitachi hopes to expand further, into Southern and Eastern Europe.
Six years ago, these market analyses, as well as Hitachi's long experience in magnet technology, encouraged the firm to expand its medical technology. The Japanese company's focus is underlined by its global annual budget for research and development: 3.5 billion Euros.
This year, Hitachi will launch the open Oasis 1.2 Tesla MRI in Europe. This means that the company will present itself with an early gift for a forthcoming anniversary: the youngest player in medical imaging will become a centenarian in 2010!
About Hitachi
When Namihei Odaira founded a small repair shop for electrical goods in 1910 no one could have guessed this would become a global company named Hitachi. However, Odaira did more than repairs - even on, he produced his own small electrical engines. The company has remained true to that inventive spirit; over the last 100 years Hitachi has developed water turbines, electric locomotives, refrigerators, electronic microscopes, computers, the high-speed train Shinkansen and even atomic power stations. Chip technologies and analysis methods, as well as software development, are also part of the Japanese firm's portfolio.
Hitachi, which employs about 400,000 people globally, has an annual turnover of over 100 billion dollars in the last fiscal year 2007/2008