OASIS setting high standards in MRI
OASIS is a powerful 1.2 Tesla high-field open MRI system which combines unparalleled patient comfort with superior imaging quality. High speed gradients and multi channel RF technology allow exceptionally fast image reconstruction and ensure high diagnostic throughput in the only truly open architecture high performance MRI system ever brought to the medical field.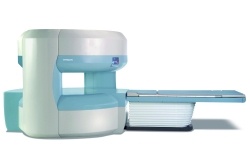 Hospital managers and busy radiologists facing high cost control pressures and demanding patient throughput targets welcome the OASIS™ in their MRI departments. OASIS™ is the world's first 1.2 Tesla vertical high-field open MRI system to provide excellent image quality with an open magnet system that enhances the patient's sense of wellbeing and reduces their procedure-related anxiety. The OASIS™ can be installed in most existing conventional 1.5 Tesla MRI rooms delivering further cost reduction benefits.
Safe and patient friendly
With a high prevalence of elderly patients, and more patients with inhibited motor function as well as increasing numbers of patients with moderate or extreme obesity, many patients for whom MRI is indicated are not suitable for examination with conventional horizontal bore systems. OASIS™ has an unobstructed viewing angle which lowers anxiety in these difficult patients, decreases scan time and can thus increase patient throughput. The system benefits from compatibility with the full unrivalled range of Zenith RF body coils and offers exciting opportunities to explore new horizons in MR guided interventional procedures.
High performance imaging features
The system supports all standard MR imaging features as well as Hitachi-specific MRI technologies. Hitachi innovations include capability for comprehensive motion compensation for free breathing abdominal studies, motion artefact free neurology scans, high resolution dynamic breast imaging and dynamic contrast enhanced abdominal studies. Patients with renal failure benefit from non-contrast magnetic resonance angiography. Further features support rapid data acquisition using a parallel imaging design, decreased scan times and increased patient throughput. Image quality improvement is achieved with High Order Shim System (HOSS).
The imaging features of Hitachi's OASIS™ MR system meet the demands of today's clinicians and are appreciated by patients worldwide – Hitachi have combined user friendly design and superior image quality to deliver diagnostic confidence, patient comfort and investment value. Hitachi is known for its patient-centered philosophy - OASIS™ upholds this tradition and sets a new standard for the medical imaging market. Hitachi Medical Systems Europe is confident it can continue to expand its established customer base of thousands of satisfied users around the world.
About Hitachi Medical Systems Europe Holding AG
Hitachi Medical Corporation, a globally active company owned by the Japanese Hitachi Ltd. Group (NYSE: HIT / TSE: 6501) is a leading international electronics company with approximately 390,000 employees worldwide. The Hitachi Medical Corporation is represented in Europe by Hitachi Medical Systems Europe Holding AG, with headquarters in Zug, Switzerland. The company is a first choice supplier of open and powerful high-field MRI systems, multi-slice CT systems as well as medical ultrasound and optical topography devices.
Ultrasound expertise encompasses clinical applications including general radiology,
internal medicine, gynaecology, cardiology, gastroenterology, urology and surgery. Hitachi
Medical Systems offers a complete range of solutions to address a wide range of medical
challenges.

For more information contact:
www.hitachi-medical-systems.com
Contact
Romea Wallnoefer
Hitachi Medical Systems Europe (Holding) AG
Sumpfstrasse 13
CH-6300 Zug
Tel. +41 41 748 63 43
Fax +41 41 748 63 32
E-Mail r.wallnoefer@hitachi-medical-systems.com


More on the subject:
More on companies: