Now fully integrated
The compact endoscopic ultrasound (EUS) processor EU-ME1 from Olympus is completely integrated.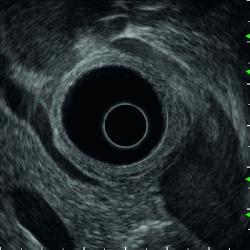 Designed for diagnostic, therapeutic, and interventional applications in EUS and endobronchial ultrasound (EBUS), advanced technology drives mechanical scanning endoscopes and probes as well as electronic scanning endoscopes. The manufacturer also explains that the system is suitable for GI endoscopists performing EUS, and pulmonologists and thoracic surgeons performing EBUS. The EU-ME1 brings together endoscopic imaging, ultrasound scanning, and interventional capability compatible with Olympus EUS and EBUS products. Olympus highlights the system's assets:

• Support for both EBUS-TBNA and EBUS guide sheath technique.
• EUS-guided FNA and interventional EUS procedures can be performed.
• Backward compatibility with most Olympus ultrasound endoscopes and miniature probes.
• Available frequencies vary from 5 to 30 MHz.
The compact size allows for configuration on the same endoscopy cart as the video endoscopy system centre. With picture-in-picture function, the monitor can display the endoscopic and/or ultrasound image.

More on the subject:
More on companies: