Nosocomial infections
More than four million people acquire a healthcare associated infection (HAI) in the European Union (EU) annually; of these 37,000 die as a direct consequence of the infection, according to a European Centre for Disease Control 2008 estimate.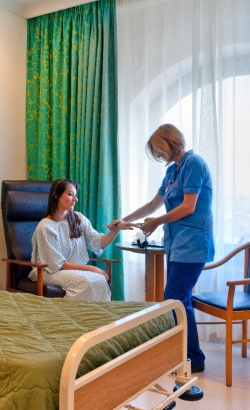 The core competencies that infection control and hospital hygiene managers need centre around programme management, quality improvement, surveillance and investigation of HAIs and infection control activities, such as decontamination and sterilisation of medical equipment, implementation of infection control procedures, reduction of antimicrobial resistance (AMR) and control of environmental sources of infections.
The implementation of such protocols has produced tangible results in many medical centres throughout the EU, but has also unearthed evidence of malpractice in others.
In England and Wales, the national cleanyourhands campaign, rolled out in 2005 in 187 National Health Service (NHS) Trusts, reduced MRSA and Clostridium difficile infections by half; the installation of antimicrobial copper touch surfaces in the Centre Hospitalier de Rambouillet in Paris, three years ago, also aimed at reducing such infections, especially in high risk areas such as paediatric wards and intensive care units.
However, a 2012 survey to measure current methods and attitudes around surveillance of healthcare worker hand hygiene behaviour showed adverse reactions. Carried out by DebMed, the healthcare programme of the Deb Group (a skin care specialist based in Derbyshire, UK), found that direct observation used to monitor hand hygiene compliance yielded a 34% 'not satisfied at all' return, and 60% were just 'somewhat satisfied' with the data accuracy.
The company advocated a more sophisticated electronic hand hygiene compliance monitoring system in line with the World Health Organisation's 'Five Moments for Hand Hygiene' strategy.
Dr Alex Portelli, principal medical officer (PMO) in a private 60 bed-hospital in Malta outlines the advantages and the limitations of adopting these infection control and hygiene protocols in such a setting. 'In larger hospitals these preventive measures are the core competency and responsibility of a trained group of professionals (one professional per 400 patients) supported by state of the art laboratories and information technology,' he explains. 'On the other hand, in our hospital such quality assurance is carried out by professionals who have other roles in the same hospital; I, for one, am also the PMO in charge of the administration and logistics of the medical staff and all Libyan patients who are admitted under our care. Initially the hospital attempted at employing a part-time nurse with the aid of relevant link professionals to support her but, unfortunately, the idea did not take off.'
This state of affairs poses a strict limitation on the quality of the infection control strategy, especially where surveillance is concerned. 'Although all our staff are regularly drilled in relevant induction and refresher courses, it's very difficult for us, the quality assurance (QA) team, to monitor that these safe practices are actually done correctly,' he explains sadly. (* The team: Dr Portelli, a quality assurance nurse, hospital pharmacist and another nurse).
'Although the hospital produces regular annual reports about the number and type of HAI cases, and the particular setting in which these occurred, we do not have the necessary link to valid laboratory data and this drastically reduces our signal capacity,' he concludes.
Libyan patients, in particular, posed a specific threat to the HAI control system last year. 'There was an influx of such patients in the past two years, both as a result of war-inflicted injuries and the non-availability of the necessary treatments in their country,' Portelli recalls.
'Unfortunately most of them were colonised with EBSL (extended spectrum B-lactam) species, probably due to the gross misuse of antibiotics, unfortunately so rampant in this Northern African country. Luckily we never had an outbreak or cross-infection to other vulnerable patients, both as a result of increased surveillance on healthcare professionals and appropriate screening, and strict segregation of such patients in one hospital wing, as well as limiting the number of visitors; the fact that all our hospital wards have single rooms also limited the risk of spread.'
The hospital's infection control system actually revolves around contact precautions, mainly hand washing and personal protective equipment (PPE), cohorting, isolation and surveillance, especially in high risk patients such as the mentioned Libyan cohort, and patients who have been in Mater Dei hospital (the local public hospital) in the last six months, the elderly residing in homes and patients with a past history of MRSA.
The challenges posed by the logistics reality of small hospitals and clinics is a factor that can undermine, even if in small doses, the strategy aimed at keeping HAIs, and the risk of related deaths, at bay.
Taking this into account, both at a national and European level, could be a way forward to ensure that our hospitals are completely safe, whatever their size, logistics and budget.
After all, no price is high enough if it can safeguard the value of a human life.