High Throughput WSI
New scanner for double sized slides
In the field of cancer diagnostics often tissue has to be cut in small pieces to fit on standard slides, although larger tissue sizes would be advantageous for diagnosis.In addition, most high throughput scanners available on the market are only able to scan normal sized slides. Some single slide scanners are able to process double sized slides but there is no system available for the automated batch scanning of larger slides – until now.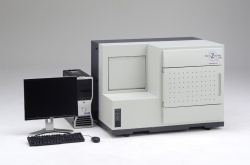 Hamamatsu Photonics is the first to develop a Whole Slide Image (WSI) scanner specifically for the high throughput scanning of 76 x 52 mm slides. The NanoZoomer XR-L is based on our high throughput model NanoZoomer XR and holds up to 4 cassettes of 40 slides each. The dedicated software offers a batch scan mode for scanning up to 160 slides automatically in approximately 35 s (15x15 mm, 20x) or 45 s (40x) per sample. For special cases a semi-automatic mode, manual mode or a single scan mode is possible.
The WSIs can be accessed immediately after scanning and depending on application are either transferred to an image server for remote access or further processed by automated analysis software.
Source: Hamamatsu Photonics Deutschland GmbH
More on the subject:
More on companies: