Sponsored • Customer reference
Benefits of Digital Pathology and the importance of slide preparation
Digital Pathology at a multisite Swedish laboratory: Region Skåne
In recent years, digital pathology has become increasingly recognised as a clinical diagnostic tool and has taken a crucial role in pathology laboratories. One of the early adopters of digital pathology is the Department of Clinical Genetics and Pathology, Office for Medical Services, Region Skåne, a multisite Swedish laboratory which produces over 800,000 histopathology slides per year. The department has implemented digital pathology in all four labs across its organisation, making it one of the world's largest digital pathology groups in clinical practice. In total, 18 digital slide scanners are installed, including a combination of NanoZoomer S360 and S60.
Leading up to 2019, it was recognised that there was a shortage of reporting capacity within the current pathologist team. There was also a need to reduce cancer care lead time. Digital pathology was identified as an option to solve both of these shortfalls. The site in Malmö was active in the implementation and integration of digital pathology that ran throughout 2019 and involved all laboratories. From November 2019 onwards the region was 100% digital with regards to histopathology. The implementation was an intensive process. Clear and structured feedback was required from pathologists to assess any concerns to enable the laboratory to react and make any necessary corrections.
| Laboratory | Cases | Slides | Scanners |
| --- | --- | --- | --- |
| Helsingborg | 40,877 | 193,529 | 3 |
| Kristianstad | 34,160 | 155,355 | 3 |
| Lund | 67,677 | 533,641 | 6 |
| Malmö | 69,901 | 489,028 | 6 |
| Total | 212,615 | 1,371,553 | 18 |
Total amount of cases and slides produced by the Department of Clinical Genetics and Pathology, Region Skåne from May 2019 until the end of 2020. All slides are scanned for digital pathology.
Dr. Kevin Sandeman, Clinical Pathologist and Head of Unit for the pathologists in Malmö, shares his experiences and learnings from their successful implementation of digital pathology. He explains the advantages that digital pathology has brought to the laboratory and discusses the importance of standardised slide preparation.
What are the advantages of digital pathology?
Dr. Sandeman comments, "Whilst there are many advantages to digital pathology, being able to work remotely, particularly during a global pandemic such as Covid-19, is a huge advantage to the region. It also allows group consultation to be carried out without face-to-face contact.
Faster diagnosis is a key indicator and evidence shows that the introduction of digital pathology has reduced the diagnostic proportion of our reporting times by up to 27% with a decrease in total time to diagnosis of 12.5%.

Kevin Sandeman
"Faster diagnosis and, in turn, a reduction of cancer care lead times has also been seen across the region. Faster diagnosis is a key indicator and evidence shows that the introduction of digital pathology has reduced the diagnostic proportion of our reporting times by up to 27% with a decrease in total time to diagnosis of 12.5%."
From a financial stand point the implementation of digital pathology has resulted in cost savings by minimising the amount of pathologist overtime required by the region.
Standardisation of the laboratory processes throughout the region has allowed them to redistribute wet specimens before preparation. This enables laboratories who previously may have struggled to complete their work to send specimens to nearby laboratories and be assured their specimens will be treated in the same way. The scanned images are then still available for all users through the central image management system.
"The NanoZoomer scanners used by the Skåne region are set up to scan the majority of tissue and stains under a single profile." This creates a smooth workflow with minimal interaction from the laboratory technicians. Dr. Sandeman reports that the training of resident pathologists is now more streamlined with the advantage of communication via annotations on the images. It also allows the specialist pathologist to have an overview of all the training cases.
Has the introduction of digital pathology affected the laboratory workflow?
Dr. Sandeman explains, "The laboratory workflow has remained largely the same. Training of staff using the scanner is important and helps them realise the importance of how the laboratory process affects the final scanned image. Standardising the laboratory process as a whole has also eased the implementation of digital pathology." Slide preparation is a key factor in the success of digital pathology and the laboratory has seen an increase in the quality of work produced since its introduction.
Standardisation and quality of pre-analytical procedures
For digital pathology to meet its full potential, labs have to focus on establishing quality and standardisation throughout all pre-analytical processes.
Dr. Sandeman highlights that "transitioning to digital is a hard quality check for the laboratory", as the quality of the digital image completely depends on the quality of the tissue slide that is scanned. Slide preparation, therefore, is key to achieving high-quality digital images. Variation in preanalytical processes leads to variation in colour and image quality. As all these pre-analytical procedures influence the final scanned image, standardisation makes visualisation and interpretation of the digital image easier.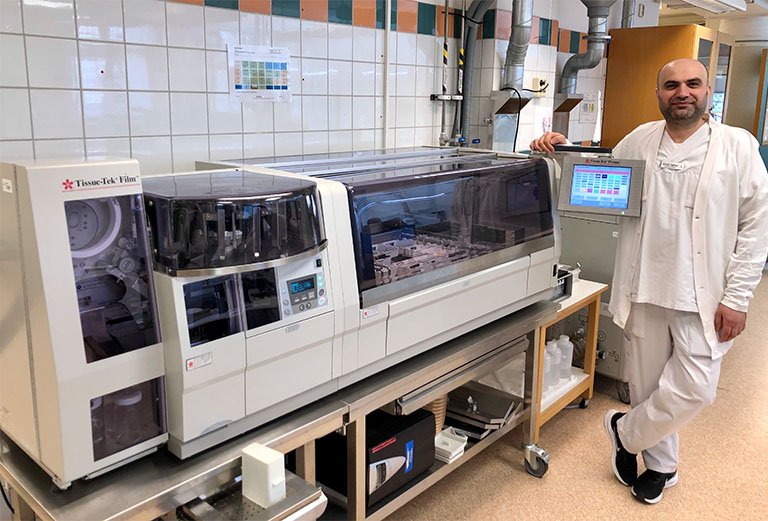 Dr. Sandeman adds that variation in slide preparation and handling between centres can result in conflicts in scanning results. Thus, technicians of all centres have to standardise pre-analytical procedures. An example of this is to standardise the thickness of sections in their microtomy step which streamlines the scanning process. Communication between centres for standardised solutions was an important factor in successfully implementing digital pathology.
Facilitating the scanning process
It is also important for the laboratory to optimise pre-analytical factors to facilitate the scanning process. In particular, the choice of coverslips can have great influence on this. All centres of region Skåne employ both glass and film coverslippers (Tissue-Tek Film® coverslipper, Sakura Finetek).
In total, eight Tissue-Tek Film® coverslippers are installed. Dr. Sandeman reports that the quality of the digital images is similar for both film and glass coverslipped slides. The technicians that prepare the slides found that coverslipping with film facilitates the scanning process and minimises out-of-focus events. Though routine stained slides are coverslipped with film coverslips as well as glass coverslips, they experience many advantages when using the film coverslipper:
The coverslipping process with film is faster compared to glass coverslipping
Slides coverslipped with film have a shorter drying time than glass coverslipped slides. The coverslipped slides can be stacked without sticking together and are immediately ready for scanning
The faster scanning process and short drying time provides a seamless synchronisation with high-throughput scanners
There are no mounting media spills when coverslipping with film that might interfere with the scanner and disrupt the scanning process.
"Film coverslipping is well suited [to digital pathology] in terms of the scanning process"
Dr. Sandeman emphasises that the technicians in Malmö have a clear preference for the film coverslippers. He adds that with film coverslipping, the coverslip is positioned centrally and in a same way for every slide, eliminating the manual adjustment that may occur if a glass coverslip is not aligned properly to the slide.
The future
The rise of new advanced technologies is pushing the field of digital pathology even further. One specific technology that is expected to be integrated increasingly into digital pathology is artificial intelligence (AI). Dr. Sandeman is an independent researcher in the field of AI. When asked about how important standardisation of slide preparation is in digital pathology, he states that "standardised preparation of slides is central in AI". He explains further that AI algorithms are trained for a specific task, therefore every artefact will have to be taken into consideration when training the algorithm. "If you do not want to constantly update the algorithm intended for a specific task, standardisation of the slide preparation is important."
This article was a collaboration between Hamamatsu and Sakura Finetek.
More on the subject:
More on companies: