Eyes
New eye structures discovered
"It's not everyday that one newly discovers parts of the human body," says Roy S. Chuck, MD, PhD, Chairman Department of Ophthalmology and Visual Sciences, Albert Einstein College of Medicine.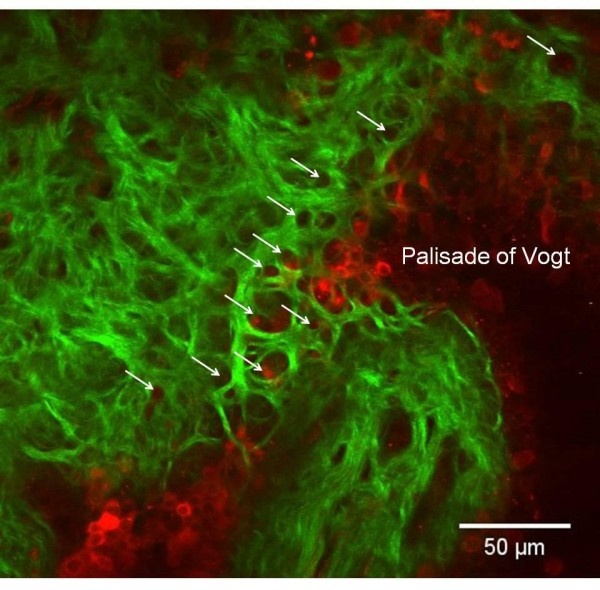 Yet that's exactly what he and his lab team, in collaboration with Professor Choul Yong Park, a visiting scientist on sabbatical from Dongguk University, South Korea, announced in a recent study published in Investigative Ophthalmology and Visual Science. New structural anatomy is rarely uncovered these days.
"What makes this finding extra interesting is the proximity of these new structures to a stem cell region where we already perform limbal stem cell transplants to replenish the corneal epithelium when it is lost to disease or injury," he adds.
Using an advanced spectroscopic technique (second harmonic generation imaging microscopy), the Chuck lab was able to describe two novel structures in the cornea of the human eye: the anterior limbal cribriform layer and presumed anchoring fibers. These structures have never been described by any means before.
According to Chuck, an Unrestricted Grant from RPB to the Albert Einstein Department of Ophthalmology and Visual Sciences supported user time on the core microscope (NIH and institutional grants covered purchase of the microscope, but major users must cover the upkeep), paid for the purchase of sample preparation materials, and covered manuscript submission and publication costs.
While the function of the collagen/elastin-containing anterior limbal cribriform layer remains unknown, it may play a supportive function as it is composed of structural proteins, passes vasculature and underlies a stem cell region of the eye. "Hopefully we will be able to better understand the function of these newly discovered structures by monitoring their appearances in various disease states of the ocular surface," says Chuck. "Perhaps they are necessary to maintain the stem cell and/or vascular surrounding environment in healthy corneas."

Source: Research to Prevent Blindness