New clinical segments revitalize the mature ultrasound market
Ultrasound is finding relatively new applications across various clinical specialties and points of care, from image-guiding interventions, biopsies and non-invasive diagnosis to imaging in war and sports fields. Cost effectiveness, safety, high accessibility and clinical value in preliminary diagnosis are strengthening the technology's value proposition. It is seen as the definitive diagnostic system in diverse settings due to its portability and use in needle placement procedures as well as the diagnosis of tendon, muscle, ligament, nerve and joints abnormalities.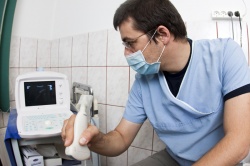 New analysis from Frost & Sullivan, Assessing Ultrasound's Market Potential within Emerging Clinical Points of Care, finds that the market earned $3.66 billion in 2014, with emerging clinical segments accounting for 21.8 percent of total revenues. The United States, Brazil, Germany, France, Spain, Italy, the United Kingdom and India contributed to nearly three-quarters of the total revenue and volume of the market studied. Currently, cart-based and portable (laptop) ultrasound equipment have a stronghold on the market with 87.0 percent share in units sold and 97.5 percent share in revenue.

"Greater awareness of the harmful effects of radiation exposure in other imaging modalities, and the ability to provide additional care at the patient site, are driving the market for point-of care ultrasonography," said Frost & Sullivan Healthcare Research Analyst Srikanth Kompalli. "This trend is causing emerging clinical segments to outstrip the established ones such as radiology, cardiology and obstetrics and gynaecology (OB/GYN) in North America, Latin America and Western Europe."

However, conventional clinical applications still account for over 78 percent of the market in the developed regions. Saturation within this segment limits the uptake of premium ultrasound systems. Often, refurbished systems cannibalise the sales of new and advanced equipment. Further, budgetary constraints, inadequate technical resources, and lack of full reimbursement for ultrasound procedures hinder the technology's widespread adoption.

To interest end users across a wide range of applications, ultrasound manufacturers are producing more mobile systems with real-time imaging, volume imaging, and 3D and 4D transducers. These functionalities will address the diagnostic and image guidance needs of interventional procedures. Going forward, ultrasound is expected to find substantial adoption in dermatology, breast imaging and therapeutic applications.

"With improving functionality, performance and affordability, advanced, portable systems will stoke the adoption of ultrasound systems in emerging clinical points of care," concluded Kompalli. "In fact, the uptake of portable and ultra-portable ultrasound systems is expected to exceed that of cart-based ultrasound systems by 2019, as demand grows in clinical segments such as emergency care, anaesthesia and pain management, musculoskeletal applications, primary care, OB/GYN and general imaging radiology."

Assessing Ultrasound's Market Potential within Emerging Clinical Points of Care is part of the Advanced Medical Technologies Growth Partnership Service program. Frost & Sullivan's related studies include: Western and Eastern European Multiparameter Patient Monitor Market, Analysis of the US Advanced Wound Care Technologies Market, Analysis of the US Medical Image Displays Market, Western European Contrast Auto-injectors Market, Western and Eastern European Custom Procedure Trays and Packs (CPTP) Market, Analysis of the Infant Care Solutions Market, and Western European Percutaneous Coronary Interventions (PCI) Market, among others. All studies included in subscriptions provide detailed market opportunities and industry trends evaluated following extensive interviews with market participants.
Source: Frost & Sullivan