Neurologists — an endangered species?
Irish and German neurology associations warn of an imminent shortage of neurologists. In Ireland, according to experts the situation is "lacking at best" and "catastrophic at worst". German physicians as well detect increasing deficiencies in neurological care coverage primarily due to an aging population and concomitant morbidity.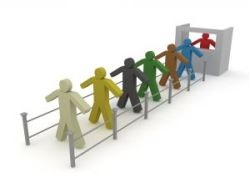 Neurological care in the Irish public health service is "lacking at best" and "catastrophic at worst" – this is the disconcerting verdict of the Irish neurology association. Waiting times, association representatives say, have significantly increased over the last five years and Irish hospitals suffer from a shortage of both qualified neurologists and qualified neurological nursing staff.
According to a recent publication by the Irish national health service, 700,000 people in Ireland suffer from neurological disorders – a figure which is expected to increase to "more than 800,000" over the next decade. This development is inter alia due to the demographic trend. Even today, patients with neurological problems do not receive sufficient and adequate care as there are simply not enough qualified physicians and diagnostic services..
One figure illustrates the situation: in all of the Republic of Ireland there are currently 20 neurologists working for the national health service. "We would need 42", says Mike Glynn of the Neurological Alliance of Ireland. Glynn urges Mary Harney, Irish Minister for Health and Children, to hire more neurologists and to expand the neurological departments at the public hospitals. Irish patient associations support this demand.
In Germany as well, neurologists are a scarce commodity, as the German neurology association Deutsche Gesellschaft für Neurologie (DGN) pointed out prior to its annual congress which will take place in Hamburg from 10 to 13 September. The German experts also cite an ageing population and the concomitant morbidity as the causes of this development.
"There is hardly anybody today who does not have a relative or friend suffering from Alzheimer, some form of dementia, stroke, multiple sclerosis or epilepsy. And the numbers are increasing: The number of patients will rise significantly over the next few years as the population is getting older", the association explains
According to DGN, 28 percent of all neurological departments have problems filling vacant positions. DGN consequently demands to enhance the working conditions for neurologists – for example by cutting red tape in hospitals and private practice, scrap the plan to not reimburse physicians for certain prescriptions, improving the reimbursement structure for neurologists and last not least supporting neurological research.
"Every single month that a Parkinson or a stroke patient can care for himself or that an Alzheimer patient does not have to spend in a nursing home, improves the quality of life of these patients and reduces costs for the society at large", the association points out.