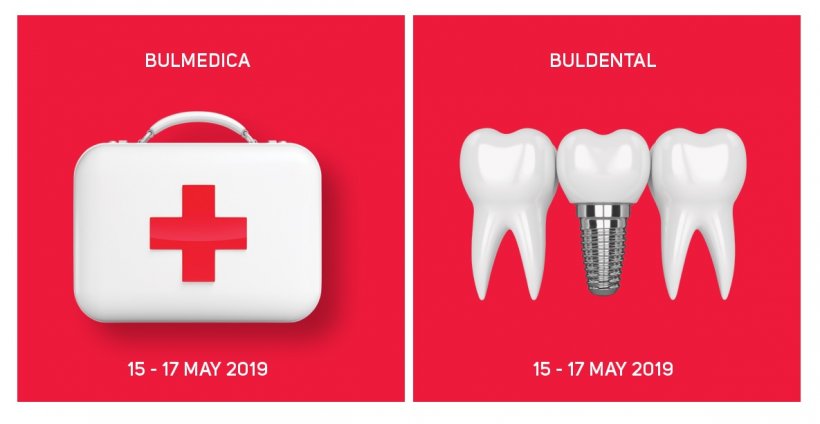 Source: Bulmedica/Buldental
News • Exhibition
Medical specialists meet in Bulgaria
Bulmedica/Buldental International Exhibition reveals its potential at Inter Expo Center, Sofia, from 15 to 17 May 2019
Sharing experience, following trends, seeing innovative practices and technologies, and networking are key drivers for the development of medicine. Essential for medicine and dentistry in Southeastern Europe, the Bulmedica/Buldental international exhibition will bring together specialists and leading companies in the capital of Bulgaria – Sofia – from 15 to 17 May 2019.
"The professional setting annually created is essential for the sector in the region," visitors to the last edition commented. In 2019 again, specialists will learn about products from several continents. Bulmedica will provide the opportunity for medical equipment, cabinet, apparatuses, tools and consumables manufacturers, importers, representatives, distributors and dealers to meet. The new Derma & Aesthetics theme has been included for the first time within Bulmedica, which focuses on dermatology and aesthetic medicine. For the 53rd time Buldental will enable the companies in the sector to present high-class dentist and dental lab equipment and cabinets, machines, tools, materials and consumables.
Participants from Bulgaria, Great Britain, Canada, Germany, Portugal, Singapore, China, Taiwan, Pakistan, Romania, Italy, Switzerland, France, Greece, the Netherlands, Turkey, Poland, Hungary, Latvia, Slovenia and others were among the companies that set up their stands on the last edition of Bulmedica/Buldental. The exhibition and congress capacities of Inter Expo Center have become the arena for numerous professional seminars, demonstrations and presentations on the latest products, the prevention of various diseases and public safety.
You can find detailed information about the exhibition and the opportunities for participation in Bulmedica/Buldental at: bulmedica.en.