Measuring the effect of enhanced cleaning
Researchers from East Kilbride, Glasgow, UK, recently presented their results of a study saying that only one extra cleaner in a hospital working Monday to Friday can reduce the number of MRSA infections.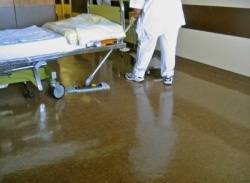 The study, presented at the European Congress of Clinical Microbiology and Infectious Diseases aimed to evaluate the effect of one extra cleaner using microbiological standards based on aerobic colony counts and the presence of Staphylococcus aureus including meticillin-resistant S.aureus (MRSA).
The team of researchers introduced one extra cleaner into two matched wards from Monday to Friday, with each ward receiving extra cleaning for six months in a cross-over design. Ten hand-touch sites on both wards were screened weekly using standardised methods and patients were monitored for MRSA infection throughout the year-long study. Patient and environmental MRSA isolates were characterized using molecular methods in order to investigate temporal and clonal relationships.
Results: Enhanced cleaning was associated with a 32.5% reduction in levels of microbial contamination at hand-touch sites when wards received enhanced cleaning (p<0.0001: 95% CI 20.2%, 42.9%). There was little effect on environmental MRSA/S.aureus. Near-patient sites (lockers, overbed tables and beds) were more frequently contaminated with MRSA/S.aureus than sites further from the patient (p=0.065). Genotyping identified indistinguishable strains from both hand-touch sites and patients. There was a 26.6% reduction in new MRSA infections on the wards receiving extra cleaning, despite higher MRSA patient-days and bed occupancy rates during enhanced cleaning periods (p=0.032: 95% CI 7.7%, 92.3%). Adjusting for MRSA patient-days, and based upon nine new MRSA infections seen during routine cleaning, we expected thirteen new infections during enhanced cleaning periods rather than the four that actually occurred. Clusters of new MRSA infections were identified 2-4 weeks after the cleaner left both wards. Enhanced cleaning potentially saved the hospital up to £70,000.
Conclusion: Introducing one extra cleaner working Monday to Friday produced a measurable effect on the clinical environment, with apparent benefit to patients regarding MRSA infection. MRSA strains originally identified from hand-touch sites were later found in patients. There is scope for further research on hospital cleaning as a cost-effective component in the control of hospital-acquired infection.

S. Dancer*, L. White, J. Lamb, E. Girvan, C. Robertson (East Kilbride, Glasgow, UK)
Pic: pixelio/RainerSturm