Interview • Shimadzu Europa 50th anniversary
Mass spectrometry and ever more…
As Shimadzu celebrates its 50th anniversary in Europe, we spoke with Stéphane Moreau, Manager of LC-MS & Life Sciences at the Marketing Europe/Analytical Business Unit of Shimadzu Europa GmbH, about today's and many more decades of exciting clinical developments.
Interview: Jane MacDougall
HiE: Mass spectrometry has been widely used in various fields, yet only recently entered medicine. For lab clinicians, the challenge is to understand this totally different, more chemistry-based technology, for which they are not yet trained. How does Shimadzu help with understanding, use and integration of mass spectrometry into their daily routine?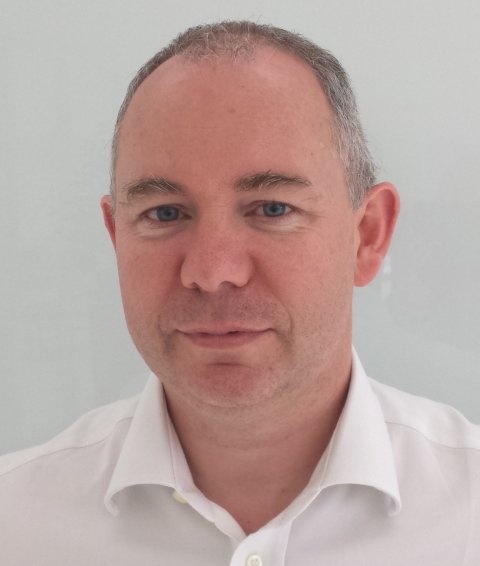 Stéphane Moreau: 'Liquid chromatography coupled with mass spectroscopy (LC-MS) or tandem mass spectrometry (LC-MS/MS), began to be introduced into medical labs at the beginning of the 2000s, often used to diagnose inborn errors in metabolism, from profiling amino acids in blood spots from neonates. However, the revolution in how mass spectrometry is used in the clinical lab really began in 2006 – in microbiology labs. Up till this, the identification of bacteria and diagnosis of infections were based on traditional methods reliant on culturing, or sensitive and time consuming techniques such as 16sRNA sequencing.
Shimadzu's Koichi Tanaka, who was awarded the 2002 Nobel Prize for Chemistry for his demonstration of the possibility of applying laser technology to biological macromolecules, was behind the invention of MALDI-TOF mass spectrometry. This created, for the first time, a system that enabled the rapid identification of microorganisms from biological fluids and offer rapid and accurate diagnosis. Nevertheless, mass spectrometry is complex, especially in terms of sample preparation and handling, which creates a barrier for clinical labs because they particularly like to automate this step to reduce workload and minimize operator error.
To overcome those practical problems and ease clinical workflow, Shimadzu introduced in 2016 the CLAM-2000 LC-MS/MS, the Clinical Laboratory Automated sample preparation Module. The system is fully automated and simple to use, offering the first fully-integrated LC-MS/MS sample preparation system. Additionally, having understood how labs would want to use LC-MS, Shimadzu has deliberately kept the system flexible; it is not a "black-box". This means that labs can use commercial kits, transfer their existing LC-MS/MS methodology, or create new tests, all of which will be compatible with the automated system. In this way, the CLAM-2000 fits into laboratory workflow providing simplicity for novice users and the complete flexibility or "openness" demanded by an experienced operator.'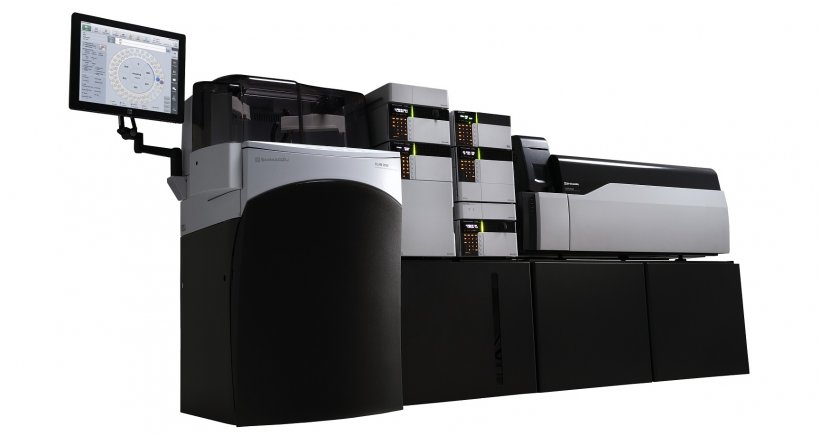 Which classical procedures can be replaced by LC-MS/MS?
'There's a long list of potential analytical applications for which the CLAM-2000 could be used but, typically today, commercial kits are available to analyze immunosuppression, vitamin D, anti-epileptics, antibiotics, steroids etc. There is also potential use in toxicology, which is difficult to bring into a routine lab because of the risk of a high number of false negatives and false positives, and also in forensics, where solid phase sample preparation is currently an obstacle to use on the system.
Shimadzu has started its European Innovation Center headquartered in Duisburg, Germany. The EUIC has a decentralized structure and combines academic-scientific know-how from universities with Shimadzu's technological expertise to even better respond to leading users' needs, and also to create new solutions for tomorrow. Currently, a new database of available compounds – over 2000 new compounds – has been created that will increase the similarity index and recognition confidence. New high speed LC-MS/MS is also being tested. The aim is to have a system that is not only for use in toxicology labs but also, thanks to CLAM-2000, can be used in Accident and Emergency (A&E) units, which need a 24/7 service for rapid diagnosis – currently not provided by toxicology labs.'
nSMOL is currently targeted for biopharma scientists and research groups. Do you foresee its application in the clinical lab? If so, what kind of lab would typically use the nSMOL technique?
'nSMOL stands for nano-surface and molecular orientation limited proteolysis. This proprietary technology enables rapid and accurate mea-surement of large molecules such as monoclonal antibodies (mAbs) in the blood. Although originally aimed for use by biopharma companies and CROs, it was hospital labs that showed the most interest in the technique. Traditional methods for mAb detection based on immunoassay require a long lead time to create the capture antibodies, are expensive and present the risk of contamination and cross-reactivity. Therefore, nSMOL offers a rapid identification method and quantification of mAb blood levels by LC-MS, applicable to routine testing of many different pharmaceutical antibodies as the methodology is the same regardless of the mAb under investigation.
This is of importance for doctors who are treating patients for diseases such as cancer with new mAb-based (biologic) drugs to monitor and assess therapeutic levels, something that is very difficult to do today. Shimadzu is actively working in this field to develop the practicality of the analytical technique.'
Shimadzu Corporation in Japan and others developed a blood test to predict the risk of developing Alzheimer's disease. The test is based on immuno-precipitation and mass spec. Can you tell us more about this?
'Measurement of the amount of amyloid beta-protein (Aβ) deposited in the brain is used to detect early changes in individuals because it suggests they are at risk for Alzheimer's disease (AD). Methods in existence today for detecting Aβ-protein, PET Scan or CSF sampling, are not compatible with large scale screening of populations, being too expensive and/or invasive.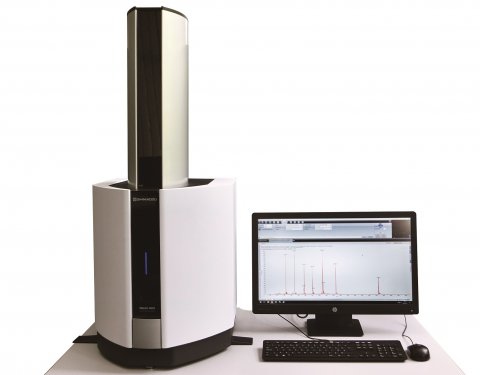 Mass spectrometry by MALDI-TOF has shown to be useful for screening new-borns for anomalies such as sickle cell disease etc. Therefore, as part of an international collaborative research team, Shimadzu has developed a highly sensitive blood test to detect Aβ-protein using immunoprecipitation and mass spectrometry (IP-MS). Used in large cohorts of patients from Australia and Japan, the method detected early onset disease with 90% accuracy, as published in Nature magazine earlier this year. Initially, this methodology will be used in screening for AD, but hopefully, with time, it can be adapted to help in drug development and therapeutic monitoring as part of the on-going challenge to alleviate the high disease burden.'
In view of the analytical and measuring instruments division of Shimadzu Europa's 50th anniversary, can you point to what made Shimadzu Europe so successful for half a century?
'If you look at Shimadzu's various technologies in analytical instrumentation, there have been many "world's firsts" and awards underlining Shimadzu's approach to overcome technological borders and provide the markets with even better qualities and solutions. Today, many of these technologies and methods have become standards for various applications and industries.
New faster MS technology will continue to create robust and cost-effective tests suitable for routine medical laboratory use

Stéphane Moreau
Looking back to just Shimadzu's instrument part I am specializing in, the introduction of MS to the microbiology lab has been revolutionary in the time saved to have rapid diagnosis from days to just a few hours. New faster MS technology will continue to create robust and cost-effective tests suitable for routine medical laboratory use. nSMOL is a nice technology to have, because it's a way to measure the new drugs, the macromolecules the pharmaceutical industry is now moving towards, away from small molecules. Also the constant search for new ways to implement modern healthcare will ensure that Shimadzu Europe continues its success. One example I can think of is microsampling, originally designed for use in small animals, this device is currently a research only technique, whereby small amounts of blood (µl) can be taken by the patient themselves and sent to the lab for LC-MS, rather than the patient going to the lab.
Another area is Probe Electrospray Ionization/mass spectrometry (PESI-MS), a new MS technique being tested on biopsy samples, today patients may have to wait for an anxious few weeks for a result. With PESI-MS, validated in Japan and under investigation in hepatocellular cancer in a cohort of Italian patients, an answer can be obtained in just half an hour. All the time we are, of course, seeking to improve sampling and sampling techniques and to make our software as intuitive and user friendly as possible to ensure the continuous popularity and practicality of our product offering.'
Profile:
In 1994, Stéphane Moreau obtained his diploma from INSA (Institut national des sciences appliquées de Rouen) in fine chemistry and engineering with a specialization in chemical process engineering. He then started his professional career in laboratory equipment distribution before he joined the brand new Shimadzu France subsidiary in 2002. Since then, he has held various positions to develop the MS range business. Since September 2013, he has been product manager for the MS range with Shimadzu Europa.
More on the subject:
More on companies: