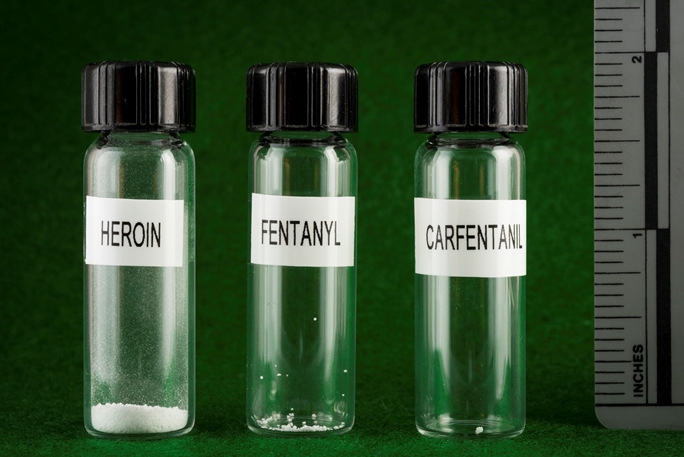 Photo: New Hampshire State Police Forensic Lab
Article • Heroin, fentanyl, carfentanyl
Mass Spec detects illicit drugs
As a synthetic opioid approved for treating severe pain, fentanyl has shown clear medical benefits. However, in recent years, continuous abuse of fentanyl and its derived analogues substances has become a major public health issue – overdoses and deaths associated with illicitly-manufactured fentanyl rose dramatically.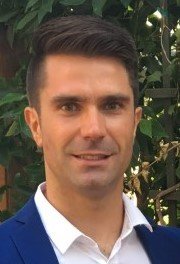 Some of these synthetic analogues have extremely high potency and only require a small amount for accidental overdose (image above shows the difference in amount of a lethal dose of heroin vs fentanyl vs carfentanyl). Drug dealers have exploited this, using traces of fentanyl to increase potency in other drugs to reduce costs. These analogues are structurally similar to fentanyl, so they often go undetected. Mass Spectrometry (MS) has emerged as a powerful tool to differentiate drugs, and has particular applications in Emergency Departments where speed is often vital.
Dr Pierre Negri from SCIEX – which offers a variety of liquid chromatography (LC) tandem mass spectrometry solutions in forensic and toxicology analysis – said that because people began buying drugs containing fentanyl from dealers and overdosed, the need grew to develop methods to quickly detect small amounts of fentanyl so that first aid responders could take appropriate actions.
Unlike immunoassay-based detection, mass spectrometry provides analyte specific results and allows accurate quantification of the drugs analysed with far greater sensitivity and resolving power than immunoassay

Pierre Negri
Where MS offers a solution is in its characterisation of various molecules (including drugs) as a highly sensitive and accurate analytical technique capable of providing qualitative and quantitative analytical data on extremely small amounts of analytes. 'As a result, mass spectrometry can differentiate drugs by assessing their mass, or molecular weight, hence providing the necessary information to elucidate their molecular structure,' continued Negri, who is the SCIEX lead for global technical forensic marketing. 'This technology can be used to detect and quantify fentanyl and its analogues in small quantity while elucidating the chemical structure of these compounds.'
Today, LC tandem mass spectrometric analysis (LC-MS/MS) is the preferred method of analysis for forensic over traditional techniques, for both screening and conformation purposes. Immunoassays are commonly used as a first-line screening method abused drugs detection and rely on the presence of a specific antibody or specific antigen in urine, blood or other fluids, yet they lack sensitivity in detecting designer drugs and require additional confirmation, which slows the analytical process. 'The advantages of LC-MS/MS over conventional methods are that it has better compound detection sensitivity for significantly lower levels than the current cut-off levels; faster time to results, with less sample prep and no derivatisation; saves time and money with multiplexing capabilities to analyse for many compounds in a single analysis; and has the ability to simultaneous quantify and identify many drug targets in various sample matrices such as saliva, urine, blood or hair samples. It's important to note that, as with immunoassay, assay design is crucial for accuracy and specificity with mass spectrometry. However, unlike immunoassay-based detection, mass spectrometry provides analyte specific results and allows accurate quantification of the drugs analysed with far greater sensitivity and resolving power than immunoassay.'
In recent years, mass spectrometers have become more accessible, cheaper to purchase and operate, and easier to use. Additionally, new MS-based workflows can be developed to eliminate a two-stage process currently used for drug monitoring, by allowing technicians to run many tests at once with a high throughput, cutting processing time while improving screening accuracy with quality assurance.
Negri suggests that, at present there remains a lack of reliable and inexpensive tests that allow for comprehensive surveillance of synthetic drugs flooding the illegal market, whereas the development of novel MS-based screening techniques have led to the rapid and accurate identification of fentanyl, as well as other drugs of abuse, previously difficult to detect by traditional analysis. He said the SCIEX X500R QTOF is a powerful tool for forensic researchers investigating samples for unknown compounds, drug metabolites, unknown chemicals or hazards, or novel psycho-active substances that have never been previously detected or characterised. Powered by the user-friendly SCIEX OS software, it can redefine how to analyse a routine forensic drug screening sample. The 6500 QTRAP or 6600 TripleTOF technologies can assist with research and method development. 'The versatility of modern mass spectrometers enables specific and comprehensive measurements that allow drug detection with a high level of sensitivity and specificity,' he said. 'The implementation of this technology in drug screening over the years has shown improved accuracy, precision, sensitivity, selectivity, and clinical utility over simple direct and complex reference immunoassays.'
Where seconds matter, Negri added, being able to correctly identify the fentanyl analogue screened, is critical.
Profile:
Dr Pierre Negri leads global technical forensic marketing for SCIEX, collaborating with opinion leaders in forensic and criminal toxicology research to develop and implement new mass spectrometry methods. In the laboratory he also works with customers to develop and promote novel mass spectrometry analysis workflows applied to controlled substances and trace evidence materials.
More on the subject:
More on companies: